The cultural historian Margot Riley from the State Library of New South Wales specialises in the history of photography and fashion, and has been a curator for more than 20 years. She takes Guardian Australia through some the library's oldest images.
The earliest surviving portrait
How was it made? A daguerreotype was made using a copper plate, coated with a thin layer of silver which, after cleaning and polishing, was bathed in iodine vapour to create a light-sensitive surface. It was then placed inside the camera and exposed to produce a latent image which was then developed with mercury vapour. This process produced a positive image with a delicate mirror-like surface, which was sealed and stored in a protective case.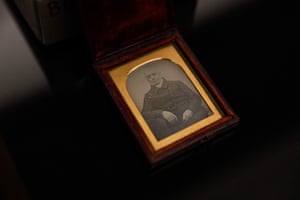 Backstory: This portrait is the earliest known surviving photograph taken in Australia. It was made by an entrepreneurial settler, George Baron Goodman, who was the first commercial photographer to work in Australia. Goodman had trained in Paris with the artist and chemist Louis Daguerre, who had invented the daguerreotype, which became the earliest viable form of commercial photography, in 1839. Goodman bought a licence to take photographs in the British colonies and, after arriving in Sydney in November 1842, set up his blue glass daguerreotype studio and immediately began capturing "faithful miniature likenesses" of the city's leading citizens. This portrait depicts the ex-convict surgeon Dr William Bland, transported for murder as a result of a duel in 1813. Bland was pardoned in 1814 and became the first doctor to establish a private practice in the colony. He also became a member of parliament.
How old is this image? Made between late 1844 and early 1845, it's 175 years old.
How much did it cost? A ninth-plate portrait like this one cost 21 shillings. That was the equivalent to one week's wage for a labourer at the time. At the time, the price was said to be extremely moderate but it would still have been out of the reach of many.
The ambrotype
How was it made? This is a hand-coloured collodiotype on glass, also known as an ambrotype, which although it has the appearance of a positive image is actually a thin glass negative converted into a positive image by the addition of a black backing to create an optical illusion.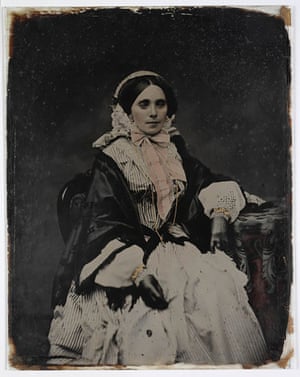 Backstory: This hand-coloured portrait of a fashionably attired woman is thought to have been made by the US-trained photographer Thomas Glaister, one of Australia's most important early photographers, who set up his American Australian Portrait Gallery in Sydney in April 1855. A master of the ambrotype portrait, Glaister brought the technical sophistication, size and style of US photography to his local work – both in the daguerreotype and collodion processes.
How old is this image? It's more than 160 years old – it was made in about 1857.

How much did it cost? Cheap and fast to make, ambrotypes ranged in price from half to a quarter the cost of a daguerreotype – approximately 10 shillings for standard small size.
The oldest surviving panorama of Sydney
How was this created? This panorama is made up of a series of 12 albumen photographs made by contact printing from wet-plate (ie, collodion) glass negatives.