Ageing cinema audiences want to watch films with intelligent dialogue that deal with real people, according to Imelda Staunton. Yet they are let down by a male-dominated industry that makes "terrible" blockbusters fuelled by violence and special effects.
The Oscar-nominated actress stars in a new heart-warming romantic comedy called Finding Your Feet, whose cast includes Celia Imrie, Timothy Spall, David Hayman and Joanna Lumley. The makers hope the movie will tap into the success of "grey pound" films such as 2011's The Best Exotic Marigold Hotel, which made more than £100m.
Figures from the British Film Institute show a consistent rise over the past decade in people aged 45 and over regularly going to the cinema, partly because of higher disposable income and extra leisure time.
Staunton, 62, whose performance in Vera Drake won the best actress award at the 2004 Venice film festival and an Oscar nomination, told the Observer: "There are a lot of people who want to listen to intelligent dialogue and see films that make you think, but also [with characters] that don't just go around killing."
Too many films gave the impression that "millions" were lavished on the special effects and "£4.80 on the script", she said, lamenting that such projects were often rushed into production: "Bish, bash, bosh … because they're after the next buck, not the next great film. What's the rush? We've got so many terrible films. Everyone works really hard on whatever film they're making. But the money people couldn't give a toss about the writing. It's very annoying because there are so many films being made now. Come on, quantity does not equal quality."
Staunton recalled that, in her younger days, she was eager to see films such as Silence of the Lambs, starring Anthony Hopkins as a cannibalistic killer: "As you get older, you think I've seen enough of those horrible films."
In Finding Your Feet, Staunton plays a middle-England snob who discovers that her husband of 40 years has been having an affair with her best friend. Abandoning her plush Surrey home, she tracks down her estranged sister (Imrie), a free-spirited character, in her shabby London council flat and finds herself reluctantly joining a local dance class, where she starts finding her feet – and romance.
Staunton said: "It is a real story about people's everyday lives and upsets – not yet again men holding guns and killing people. What about celebrating people? There are always going to be scripts that will not suit and they are in the majority. So when a good one comes along, you grab it."
Nick Moorcroft, who wrote Finding Your Feet with Meg Leonard, said: "Meg and I set out to write an uplifting and defiant comedy that touches upon the issues and challenges of growing older, but also celebrates having the courage and humour to overcome them."
Finding Your Feet's director, Richard Loncraine, was involved in developing Marigold Hotel about pensioners in India, starring Judi Dench, Maggie Smith and Bill Nighy, but dropped out to make another film with Renée Zellweger and another director, John Madden, was brought in. Yet, despite such successes and the undeniable appetite from audiences for films about "life, love, humour and observation", raising the finance for Finding Your Feet was far from easy. "Commerce drives the industry," Loncraine said. "It doesn't matter how good the script is or how well the actors act."
Staunton said that the two Marigold Hotel films had "pushed the gate open a little bit", but that there was still a long way to go with regard to casting older characters, given an assumption that "men don't want to see older women". "Well, you're going to have to. We don't not exist. I get pissed off. Everyone talks about George Clooney as gorgeous. Pierce Brosnan. They're all allowed to go grey, 'silver foxes'. OK, show me a silver-haired woman who is in her 50s, 60s or 70s allowed on screen?"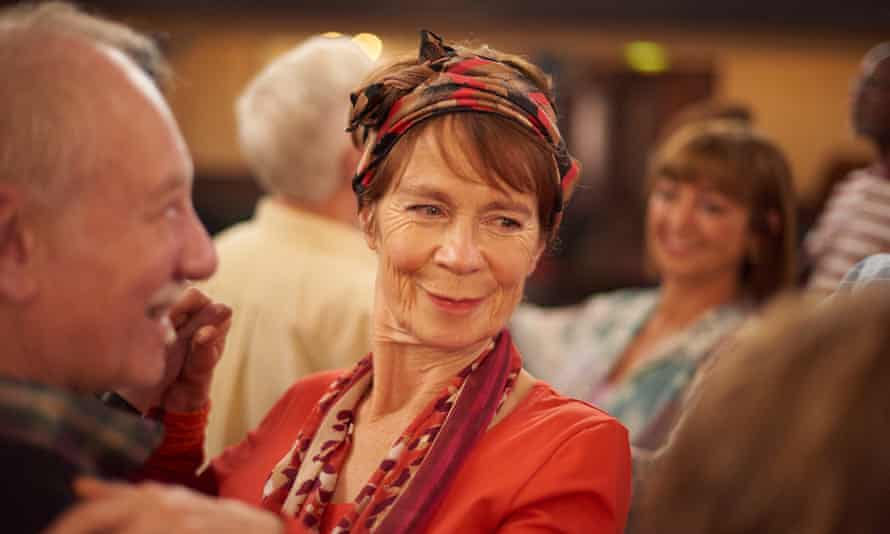 Spall agreed that the film industry had been missing a trick in not appreciating the potential of films with older characters: "It's just a natural thing. People are living longer, they are prepared to have more of a social life and they like to see things in a shared environment."
Imrie, who starred in the two Marigold Hotel films as well as Calendar Girls in 2003, said: "There's nothing more wickedly delicious than a matinee film. To sit in a cinema on a wet afternoon – people of a certain age have the freedom to do that. Why not make something they're going to love? Our film has probably got more attraction than, say, Action Man and things being blown up."
Finding Your Feet opened the 35th Turin film festival and won the audience award for best film at the Palm Springs film festival in January. The producers and distributor are also collaborating with Age UK in launching Finding Your Feet dance groups across the charity's centres nationwide.