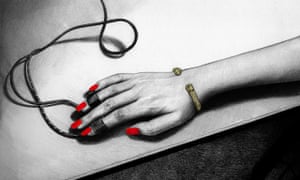 A suspect sits in a chair wearing shoulder cuffs, chest straps and fingertip sensors wired to a machine. An examiner intently watches the machine, observing a steady display of squiggly lines while calmly asking a series of yes or no questions. If the squiggles deviate too much from the baseline reading after an answer, the examiner makes a note of it. The suspect squirms in his seat.
We're all familiar with the classic image of a polygraph test. But how valid or useful would those squiggly lines be without the person sitting behind the screen, correctly interpreting what they mean?
To learn more about the role of the polygraph examiner, we spoke with Jon Christopher Holland, who has been a police officer since 1987, working primarily on investigative assignments for drug, homicide and robbery cases. He is currently a detective with the King County Sheriff's Office in Seattle, where he also operates Holland Polygraph Services, a private examination firm.
How important is the polygraph examiner in ensuring the accuracy of a polygraph test?
The polygraph examiner plays a huge role. Assuming there are no technical malfunctions with the instrument, the examiner is essential to determining whether or not a test is done properly and the results are accurate.
What are some of the best practices you use to ensure accurate results?
First, you need to do everything in your power to de-stress the situation. It doesn't matter who you are, a polygraph examination is an uncomfortable, unnatural situation. Police officers have to take them, and they're as anxious as anybody else. So you have to develop a rapport with the individual regardless of what he's in there for, no matter whether it's murder, child molestation, pre-employment screening – it doesn't matter. To the best of your capability, you have to push down the level of stress in that room.
Secondly, you really have to take the time in your pre-test interview to get to know that person, trying to understand their background and understand the situation that brings them into that office, because that all goes into the formulation of how your test questions are constructed.
Thirdly, when you draft the test questions you also have to review those questions with the test subject beforehand, because if they don't like the particular way something is worded, they're immediately going to have a physiological response to that.
Do different examiners have different ways of conducting tests?
It's very standardized. There are several different polygraph schools in the US, with different styles of teaching and philosophies, but their teachings have to abide by the standards set by the American Polygraph Association (APA). The methods approved by the APA have been validated by volumes upon volumes of case studies.
As an examiner, to what degree are you watching for certain behavioral cues or psychological responses beyond what the machine is telling you?
Well, the longest part of the polygraph is not the test itself where the person is hooked up to the instrument – it's the pre-test interview. That's where you can learn a lot about the individual. For example, say you're going down the checklist in a pre-employment screening, asking a bunch of yes or no questions, and the person seems to get into a steady rhythm with his answers. Then you ask, "Have you solicited a prostitute in the last five years?" and suddenly there's a hitch, a slight pause, maybe he moves a little. That would suggest there's a situation there that you need to explore some more, right? So you pay attention to how they answer these questions, but you're not challenging them on the information they're giving you. It's OK to let people lie.
It's OK to let people lie? You don't care if they're being truthful or not?
I care if they're being truthful or not, but if a person wants to lie during the pretest interview – that's on them. I let them lie. If they're going to lie during the pre-test interview, then when they're hooked up to the actual instrument it's going to verify that. And I tell people all the time: a polygraph interview is not an interrogation. This is where cops get in trouble, wanting to circle around and challenge the individual. But that happens after a polygraph, if a person's test score indicates significant deception. Then an interrogation might happen on the basis of those results.
What are some of the most common mistakes that examiners make?
For one thing, you have a lot of data on those charts, and examiners can easily misinterpret them and score them incorrectly, especially if they aren't that experienced. Sometimes we fail to assess properly if a person is a suitable test candidate, meaning they might have physical issues that could skew the results, such as severe pain from an injury or maybe they've taken drugs. Sometimes examiners don't use proper test formats, and sometimes the questions may not be worded properly. There are a wide variety of things that an examiner can do to affect the test.
The worst mistake, however, is failing to remain objective. Both experienced and inexperienced examiners fall into that trap. Say a detective calls you and says, "Hey, can you do a test on this guy? He's a suspect in a shooting, and I kind of think he did it." As a polygraph examiner you can't be influenced by that, no matter what the detective tells you or what he might want to hear.
As an investigative tool, how accurate do you think polygraphs are?
If a test is done correctly, a polygraph examiner can confidently say that the results are going to be anywhere from the mid-80s to low-90 percentile as far as accuracy goes.
How about people actively trying to cheat on polygraph tests? Do you come across that often?
People try it more often you than you might think. And there's a lot of data out there about how to affect physiological responses in a polygraph. They're called countermeasures. The problem is that if you choose to employ countermeasures, and you get caught at it, it's considered an automatic failure, number one. And then you're going to get interrogated.
Number two, you'd better know exactly when and how to employ countermeasures, or it's going to look like a countermeasure. So I'm going to strongly urge people not to try to cheat because the likelihood of you getting caught is very, very high.
This content is paid for by Bosch. Stream the new season of Bosch on 21 April on Amazon Prime Video.