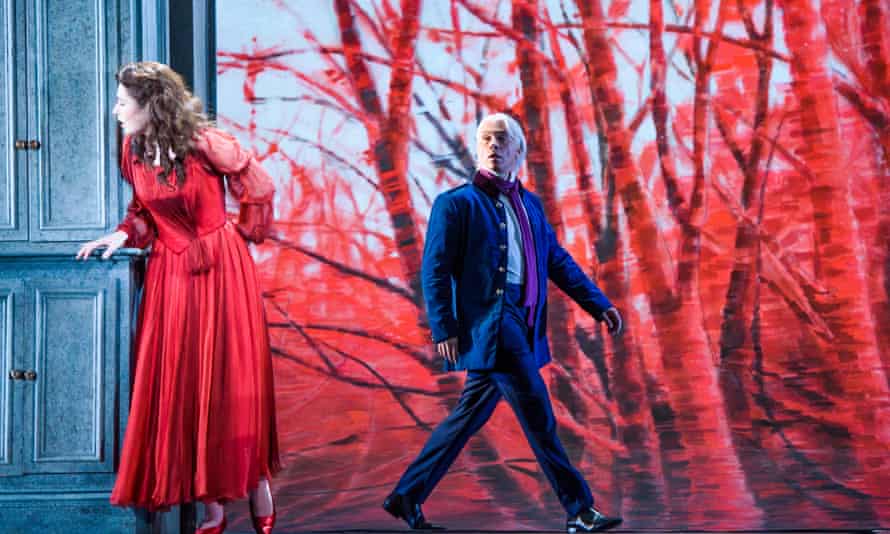 Before the premiere of Eugene Onegin in 1879, Tchaikovsky begged the chorus not to behave like sheep, the conductor not to be a machine, the production not to be too opulent. Royal Opera's 2013 staging directed by Kasper Holten, now revived and reworked after performances in Turin and Australia, obeys these requests to a fair degree. The ROH chorus sings beautifully, drilled with enough individuality to banish any thought of herd or ruminant. The Russian-born Semyon Bychkov, alert, beady, hot-blooded, is the least mechanical of conductors. He steered this score with the daring and assurance of a skilled equestrian, ever in control whether hurtling forward or reining back. When the music shifts from lyrical to almost feral, as in the Scene 4 party, the impact is exhilarating, dark and gripping.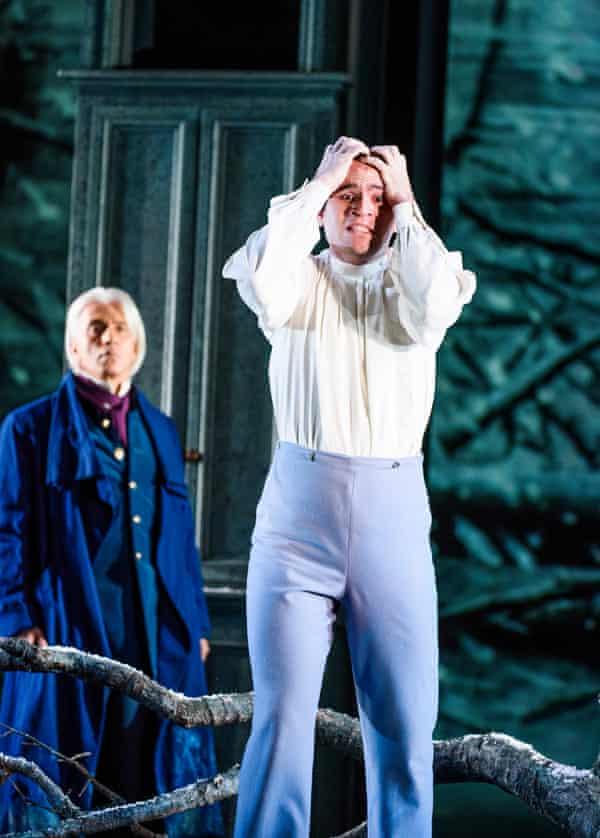 As for the production, Holten has tamed much of the excess that made the staging fussy when new. To the ire of some, he retains the use of dancer-doubles for the aloof Onegin and the impetuous teenager, Tatyana, who longs for his love. In this work about memory, youth and lost opportunity, Holten's idea is to have these dancers express the inner emotions that the real characters keep all but locked within them. The problem remains that the opera's key moments – Tatyana's letter scene, or the duel between Lensky and Onegin – need nothing more than music and protagonist. In Tchaikovsky's music, passion and despair course through every bar. No further emoting is needed.
That said, this revival was engrossing and far more successful than first time round, when it was Holten's first production as director of opera at the ROH, a post he announced recently he would leave in 2017. It looks arresting in Mia Stensgaard's designs with lighting by Wolfgang Göbbel, the doors of a fixed interior revealing harvest, snow storm or crimson-saturated silver birch as if from one of Gerhard Richter's overpainted photographs. Doubles aside, the staging is carefully thought through, with incisive detail and a powerful sense of atmosphere and mood. At Tatyana's name day, on a crowded stage with much going on, you could read precisely the full gamut of anxiety, from Madame Larina (Diana Montague) trying to fix a smile on her heartbroken daughter's face, to Onegin (Dmitri Hvorostovsky) coolly watching the impact of his actions and his flirtations while the guests look on first in embarrassment then horror.
Nicole Car, who sang the role in this production for Opera Australia, has a sympathetic stage manner and a secure, warm lyric soprano voice, though perhaps lacks that heart-breaking quality of the very best, if rare, Tatyanas. Michael Fabiano, in his house and role debut, turned Lensky into a far more overwhelming role than usual, drawing ever more vim and volume in his big aria. What a sensational performer. Hvorostovsky sang with his usual rich fluidity, his physical stillness and self-control making Onegin's inner turmoil all the more credible. One of the world's greatest baritones, Hvorostovsky will sing two more performances before resuming treatment for a brain tumour. Polish baritone Artur Ruciński will sing the role on 4 and 7 January. Hvorostovsky and Bychkov have performed this work together before. Their embrace at the final curtain showed their empathy. The courage to perform was recognised by the audience, a throng of whom rose to give him the ovation he deserved.
The year-long Minimalism Unwrapped series at Kings Place ended on a terrific high, with Aurora Orchestra's performance of Terry Riley's In C (1964), that international anthem of American minimalism – though let's not forget La Monte Young really started it all – which turned the avant garde on its head and opened up wider musical vistas. The work has loose rules but requires many choices, not least the number of players and choice of instruments. Aurora settled for a small mixed ensemble with a delicate range of sound colours, including strings with mandolin – played by the versatile violinist/violist Max Baillie – piano, flute and clarinet and a palette of dynamic ranges entirely absent in Riley's own, more relentless recording of the work. In ideal pairing, after works by Steve Reich, Nico Muhly and Arvo Pärt (with Thomas Gould a peerless soloist in Fratres), the ensemble gave an explosive performance of Beethoven's Symphony No 1, conducted by Nicholas Collon. This fiery music-making was full of zest and joy, the best possible end to a year's listening.
Star ratings (out of 5)
Eugene Onegin ****
Aurora Orchestra ****
• Eugene Onegin is rep at the Royal Opera House, London until 7 January