In the summer of 1968, as the wider world reacted in shock and protest to war and assassination and attacks on civil rights, a young, white, Mississippi folklorist named Bill Ferris roamed the back roads of his home state, looking for the blues. "I thought of it as a political act in the face of racial violence," he told me recently from Chapel Hill, North Carolina, where he lives now. "In the 60s, when a white man came to hear a black speaker or musician, they knew he was doing so at a risk. They would say to me: now if I tell you this, will you be sure to put it down and get it out?"
Locals in the little cotton town of Leland pointed him toward the home of a singer named James "Son Ford" Thomas, but the woman who answered the door claimed he didn't live there. "When I turned to go, she asked me, what do you want with him?" Ferris recalled of Thomas's wife, Christine. "Then she told me I could wait on the porch. By the time he came home, his children had befriended me and were holding my hand." Ferris and Thomas became fast, lifelong friends, too. "He was very spiritual," Ferris remembered, "and instinctively knew situations with his heart."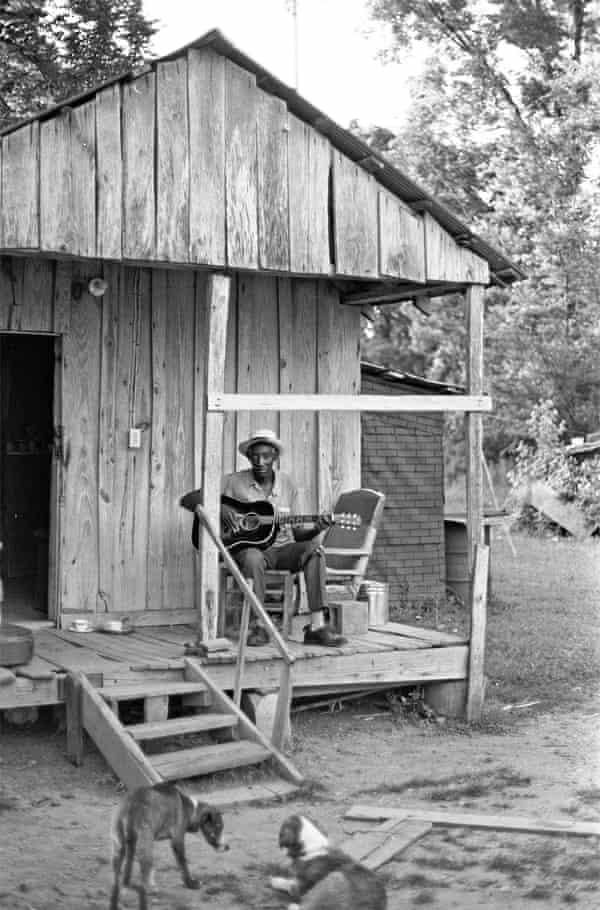 The blues Thomas sang for Ferris that summer and up until his death in 1993 are among those collected in Voices of Mississippi: Artists and Musicians Documented by William Ferris, a new four-disc box set – 10 years in the making – of blues and gospel music, films, and storytelling that offers a window on to Ferris's life's work and its Delta origins in profound and revelatory ways. Ferris would find his way to other front porches and farms, some belonging to now-recognisable names such as Mississippi Fred McDowell, some to lesser-known singers such as Lovey Williams and Wallace "Pine-Top" Johnson, and others, who riff on songs such as Little Red Rooster, Train I Ride and Coal Black Mare with haunting clarity.
Ferris grew up riding horses bareback and baling hay on his family's cotton, soybean and cattle farm, working in the fields alongside African-American families who sometimes took care of him. From early on, he was gripped by their music. "You could hear these beautiful a cappella voices from at least a quarter of a mile away, from Rose Hill Church to our home," Ferris said. "They somehow seemed to rise up from the earth." The closest town, Vicksburg, was 16 miles away, via a gravel road prone to floods – it felt like another world.
Going to school in the Jim Crow south provided the first shock that things were not as harmonious in the world outside. As a teenager at boarding school in the north-east, none of the students could understand Ferris's accent. Now 76, he still speaks in the lyrical, thoughtful cadence of his upbringing, which belies the mounting anger that prompted him to become increasingly involved in the 1960s civil rights movement. Ferris went to college in North Carolina and, for a year, to Trinity College in Dublin, where he found particular kinship in Ireland and Irish literature, especially James Joyce. "Rebellion: that's what I saw in Joyce's Stephen Dedalus. I saw my life as a rebellion from the orders the south gave its young people."
Nonetheless, he always returned home to Mississippi. Ku Klux Klan fliers were thrown at the entrance to a house where Ferris met with other civil rights organisers in Vicksburg. He continued to seek out singers, starting with hymns, "the foundation of everything I've done as a folklorist". The faith healer Fannie Bell Chapman (also the subject of a 42-minute documentary film) and her group the Spiritual Hosts who sing verses such as "I say God rocks me, feel all right!" in exuberant chorus, are among the many treasures on the gospel disc of Voices. Like his mentor Alan Lomax, Ferris also recorded secular and religious songs by men imprisoned at the Parchman Farm penitentiary; the inmate Walter Lee Hood sings the devastating They Tell Me of an Uncloudy Day.
With America at war in Vietnam, Ferris had applied for conscientious objector status in 1969. Mississippi state rescinded a job offer and he taught instead at the historically African American college Jackson State, where two students had recently been killed during a campus protest. Ferris hosted blues singers in his home and became friends with fellow professor Alice Walker. "Teaching there was the best thing that could have happened to me," Ferris said. Eventually he was invited to teach at Yale; he would later found and for nearly two decades direct the Center for the Study of Southern Culture at the University of Mississippi, and in 1997 was appointed chair of the National Endowment for the Humanities by Bill Clinton.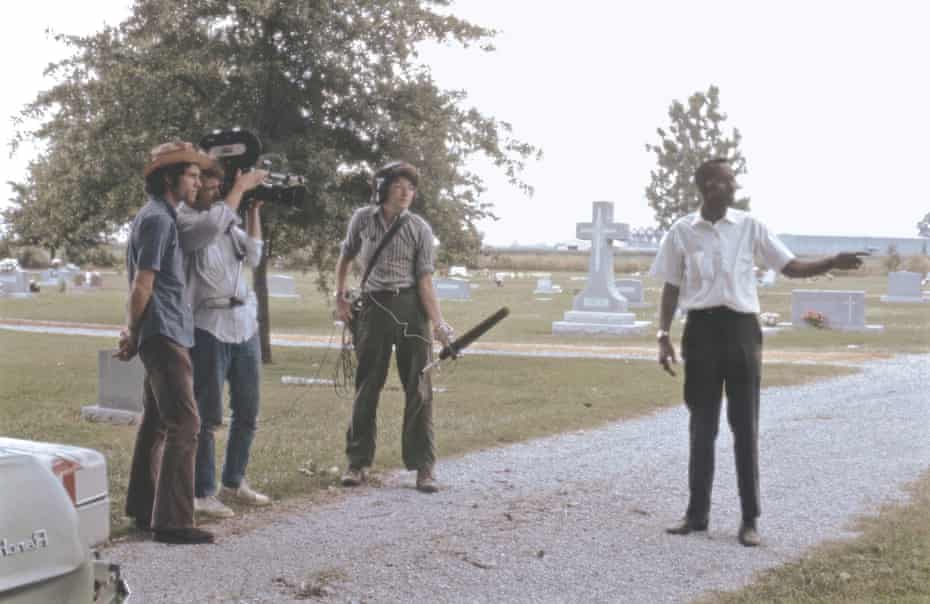 Ferris has released several films, albums of field recordings, and more than a dozen books of folklore, but none, he says, have given a complete a picture of the work as Voices does now. The bulk of the songs on the box set were recorded in the late 60s and early 70s. The lyrics and stories are transcribed in an accompanying book, along with Ferris's photographs, and essays by fellow folklorists.
Many of the voices here were largely unknown, many unknown to one another. No one articulates this isolation more plainly than James "Son Ford" Thomas, who was a gravedigger by trade, striving to work as fast as the one-armed uncle who had got him the job and thinking long and hard on the vast differences in the monuments to the dead. Standing in a cemetery in a conversation recorded in 1974, he tells Ferris: "They might remember you, but not me." He doesn't have the money, he says. "They'll throw up a tin marker on my grave with my name that will last about three weeks. Then it's gone." Thomas would later travel the country performing with Ferris, meet and talk songwriting with Allen Ginsberg, and have art exhibits of his "sculpturing". Through the recordings, he has been made immortal.
William Eggleston, Ferris's friend and fellow Mississippi-born photographer, is famously guided by what he calls a democratic way of seeing, in which "nothing is more or less important". Ferris's work could be called a democratic way of listening. When it comes to finding subjects, he claims to simply "follow my heart". It has had an equalising effect on his work: On Voices, stories and anecdotes by BB King and Alice Walker and Barry Hannah rest alongside florid tales by mule traders and quilters. One ordinary man narrates his crucial brush with history, when Charles Lindbergh's plane breaks down in Vicksburg and he's asked to repair the engine. Elsewhere, Ferris's short film Hush Hoggies Hush documents the solitary and delightfully dedicated endeavour of a farmer who trains his pigs to pray before they eat. Collected together, the flight of the aviator is no greater than the bowed head of a sow. "Here's someone being chased by a panther, here's someone auctioning mules, here's someone singing in prison, and they are interconnected," Ferris said. "Their voices have a kind of choral power."
What Voices of Mississippi illustrates above all is how intrinsically music, story and sound are linked also to the places from which they come – an impulse that Ferris deeply believes is native to the south: "Richard Wright, Alice Walker, Eudora Welty, they all focus on place as a presence that both haunts and inspires the characters who live within it." On Gravel and Springs Fife and Drum, a 16mm short film portrait of farmer and fife player Othar Turner, the music and dancing builds to a dizzy, hypnotic rhythm. Turner is on the fife, accompanied by drummers playing actual drums as well as playing washtubs and lard buckets; a young girl blows a horn; Turner's friend Napoleon Strickland plucks a one-strand guitar, namely a wire rigged to the wall of the house. Footage of daily farm chores – milking cows, washing dishes, rolling out dough for traditional southern biscuits – is interspersed with the song and dancing. All seem to be in escalating concert with each other; all things emanating from the same land and all striving to reach the same higher realm. "It's exactly true," Ferris said. "That rhythm is the cycle of life, and the music captures it."