Bye then
We'll be back again tomorrow for much more relentless Australian dominance. Do join us then. Ta-ra!
STUMPS
And that's yer lot. Another wonderful day for Australia, whose grip on this match is absolute. But for an early-morning Australian collapse, it would take a spectacular turn-up for South Africa to get anything other than a hiding out of this match.
6th over: Australia 27-0 (Rogers 1, Warner 25)
Warner brings up his quarter-century with a single off the 17th delivery he has faced. That leaves Rogers to see out the rest of the over, leaving as many balls as he can. The day ends with him on an 18-balls one.
5th over: Australia 26-0 (Rogers 1, Warner 24)
Warner goes down on one knee to crash Morkel's first delivery through the covers for four, and flicks the next off his pads and past mid-on for another. There follows a muted lbw shout, the ball pitching outside leg and being on its way a foot or so over the stumps when it hits Warner's pad. There will be time for one more over.
4th over: Australia 17-0 (Rogers 1, Warner 16)
Whooosh! Abbott angles the ball across Warner, gets a little movement off the seam, and only just misses the edge. Warner's high-scoring start ends, though he does nick a single off the final delivery.
3rd over: Australia 16-0 (Rogers 1, Warner 15)
Warner is picking up where he left off, leaning back to guide a shortish delivery through the covers for four, then slightly mishitting the next in a similar direction for three more. Rogers has faced 11 deliveries for his one run, and Warner has scored 15 off seven balls.
2nd over: Australia 9-0 (Rogers 1, Warner 8)
Abbott bowls, and Rogers makes a series of gutsy leaves from balls angles across the stumps. A maiden.
1st over: Australia 9-0 (Rogers 1, Warner 8)
A fine, aggressive start from Morkel, with Rogers not really knowing what to make of his first two deliveries but leading-edging the second for a single. But then Warner touches the ball deftly away for four and gets two from each of the next two, and the memory of those first two deliveries is lost.
Follow-on latest
Australia won't enforce the follow-on, and their second innings will get under way shortly. Back in a tick.
82.5 overs: South Africa 287 all out
Pattinson replaces Harris, and Australia bring a short leg in to further pressure Morkel. When Morkel does hit the ball, though, it crashes straight into Philander's thigh. Then he pulls a no-bal through midwicket for two, and repeats the dose only more so to grab four off the next ball. Hence the switch to bowling round the wicket, which worked pretty well.
WICKET! Morkel c Watson b Pattinson 7 (South Africa 287 all out)
It's all over! Pattinson comes round the wicket to Morkel, and immediately finds the edge, and Watson catches well at first slip. So, what of the follow-on?
82nd over: South Africa 280-9 (Philander 37, Morkel 1)
Australia place a fielder deep at third man and Johnson immediately gives Steyn height and width and the batsman takes the bait, though the ball flies about 10 yards wide of the fielder for four. No matter, he gets out next ball. Morkel takes a single off the last to stay on strike.
WICKET! Steyn c Watson b Johnson 28 (South Africa 279-9)
Johnson angles the ball across Steyn, who gets a thick edge and sends the ball straight at Shane Watson's chest at second slip.
81st over: South Africa 275-8 (Philander 37, Steyn 24)
Australia take the new ball, and hand it to Harris. Philander misjudges its bounce and hits it in the air towards mid off, where nobody is waiting to catch it. A maiden.
80th over: South Africa 275-8 (Philander 37, Steyn 24)
Johnson also returns, with the new ball imminent, and gets one to rear up into Steyn, who pushes his bat at it with one hand and is all sorts of fortunate to see it come off the shoulder, fly high between keeper and slip and off for four. Then a short ball has Steyn ducking, but it doesn't bounce much and smashes into the badge on his helmet. No damage caused, except to the helmet, which is eventually replaced.
79th over: South Africa 269-8 (Philander 37, Steyn 18)
Philander gets a single off Harris's first, bringing Steyn onto strike, and he drives his first ball deliciously down the ground for four, and then hoiks the next over cover for two, and clips the one after that to gully for a single. After Abbott's 25-ball three, we've had Steyn's 18-ball 18.
Updated
78th over: South Africa 264-8 (Philander 36, Steyn 11)
Steyn pushes the ball through the covers for four, his timing exemplary. "It's a little-known fact," writes James Steerforth, "but Molly Bloom's famous monologue at the end of Ulysses is actually a heart-felt lament for the truncated career of Ryan Harris due to his gammy knees." Here's the full text of said soliloquy. I couldn't read it all, what with having an OBO to write, but so far as I can tell it could be about absolutely anything.
77th over: South Africa 257-8 (Philander 36, Steyn 7)
Pattinson continues, and he's reliably getting the ball to swing into the batsman. Philander looks uncomfortable, and edges one into his pads, but generally deals with it pretty well.
76th over: South Africa 257-8 (Philander 36, Steyn 7)
Watson sizes Steyn up with a few testers, and then bowls one shortish and wideish and it's dismissed, absolutely as it should be, past point for four.
75th over: South Africa 253-8 (Philander 36, Steyn 3)
After just one over, Smith's microspell is over and Pattinson returns. Philander's habit of taking a single from the first ball of an over continues, despite a new and apparently injured batsman. Steyn then pushes the ball down the ground and runs three, during which there is just the slightest evidence of a limp. "Not only cricket," writes John Starbuck about James Joyce (see over 70 for details). "Ulysses has plenty about the smells of peoples clothing too: the partially moistened right sock; Love me, love my dirty shirt etc." You could say literally anything about Ulysses and I would be forced to believe you.
74th over: South Africa 249-8 (Philander 35, Steyn 0)
The wicket came off the last ball of Watson's first over after replacing Johnson. For a while I thought this meant the end of watching Abbott squirm, but no – Watson bangs one in short and Abbott only just gets his head out of the way, and then pitches the next full and takes the wicket. Nice bowling.
WICKET! Abbott b Watson 3 (South Africa 249-8)
The ball totally ignores Abbott's haphazard defensive push and clips off stump!
73rd over: South Africa 249-7 (Philander 35, Abbott 3)
Smith replaces Harris, and gets his first ball to move quite a bit. Philander knocks it to a fielder at cover and runs, a bit foolishly – a decent throw would surely have done for Abbott. Luckily it was a terrible throw, high and wide of Haddin's right shoulder, and Abbott survives.
72nd over: South Africa 247-7 (Philander 34, Abbott 2)
Philander scores a single off Johnson's first ball, which brings South Africa to 247, a number that is not only precisely 247 more than nothing but also precisely 247 less than the 494 Australia got before declaring. A landmark, of sorts. Abbott survives the rest of the over, but his 16-ball two has been an exercise in discomfort.
71st over: South Africa 246-7 (Philander 33, Abbott 2)
Harris angles the ball into Abbott, who leaves it and it misses the stumps by an inch or two. The next ball crashes into Abbott's pads, engendering a mild appeal – the ball was heading down leg side. Abbott survives the rest of the over, even scoring a couple of runs, but he doesn't look very happy.
70th over: South Africa 244-7 (Philander 33, Abbott 0)
A maiden from Johnson. "Nice Kate Bush moment. And don't worry. People who like Test Matches are destined for Ulysses," reassures Robert Wilson. "Joyce is full of cricket. Always blind as a bat, he loved the sounds. And liked to slip in the phrase 'slog to square leg' whenever he could. Not something you can say of Proust." Sadly I can't say anything of Proust, either. I don't even know any songs inspired by him.
69th over: South Africa 244-7 (Philander 33, Abbott 0)
Philander gets three with a nice-looking cover drive. "I don't know if this will be of assistance in understanding the yellowing whites of the Aussies, but when I did judo as a lad we made a point of never washing our suits before competition," writes Paul Whaley. "This was on the rationale that quite frankly it's bad enough for your concentration to have a hairy ape grinding his sweaty chest in your face; it's quite another if said ape is garbed in kit drenched in the stale sweat of six months' heavy physical work-outs. Now, I'm not suggesting that the Australians are the sort of unwashed Neanderthals who would stoop so low as to employ this sort of skullduggery, but what do you think the odds are that anyone in that team of slavering machismo knows what Persil is for?"
I can easily imagine opponents reeling from the serious olfactory up-beating they received even before your bouts commenced. This is the kind of advantage teams should be seeking. Not so much blue-sky thinking as grey-shirt thinking.
68th over: South Africa 241-7 (Philander 29, Abbott 0)
Another 50-odd still required if South Africa are to avoid a potential follow-on, and Johnson wastes no time making Abbott exceedingly uncomfortable by sending a few balls into, or not far off, his body. Or head. "The Australian team wears cream-coloured clobber, as mandated by tradition and that dedicated follower of fashion, Richie Benaud," point-of-informations James Steerforth, and I hang my head in ignorant shame. I preferred the sweat-staining theory.
WICKET! Du Plessis c Warner b Johnson 67 (South Africa 241-7)
Johnson comes on, and with his second ball coaxes an edge from Du Plessis, and Warner takes an excellent low catch at gully. The partnership is broken after adding an extremely important 95.
67th over: South Africa 240-6 (du Plessis 67, Philander 29)
Ryan Harris has a go with the ball, and is duly tucked through midwicket by Du Plessis for four, and again a few balls later for two. In between, Harris coaxes one to swing across the batsman, away from Haddin and away for four byes. English cricket newsflash:
66th over: South Africa 230-6 (du Plessis 61, Philander 29)
"Has no one noticed that JP Duminy sounds like a stationery shop owner in Ulysses?" wonders Robert Wilson. "Grossbooted draymen roll dullthudding barrels past the fourpaned windows of JP Duminy's. Kind of thing. Pretentious maybe, but dizzyingly true." Robert, I have no idea. I can't even pretend to have read Ulysses, sadly. I have heard a song inspired by it, if that counts?
65th over: South Africa 227-6 (du Plessis 60, Philander 27)
Du Plessis clips the ball through midwicket for four, and that's his half-century. It's a lovely shot, and he basically does it again to get another four off the next ball, later adding a couple with a paddle to long leg. Now, here's another picture of a sparkly white-clad South African and some yellowing, sweat-stained Australians.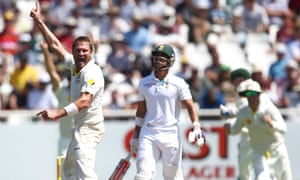 64th over: South Africa 216-6 (du Plessis 49, Philander 27)
Philander waits for a bit of width, and then pounces upon it when it arrives, cutting the ball away through backward point for four. Now, more important matters: is it just me, or do South Africa use a better brand of washing powder than the Australians? Their kit is just whiter. There can be no doubting it. I'll post another picture in the next over. Questions must be asked about this.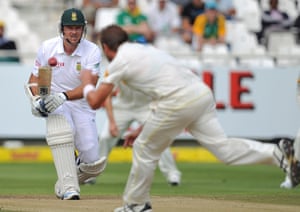 63rd over: South Africa 212-6 (du Plessis 49, Philander 23)
A poor first ball goes for two, and Philander adds a single off the second to give Du Plessis four opportunities to clame that 50. He doesn't take any of them.
62nd over: South Africa 209-6 (du Plessis 49, Philander 20)
Du Plessis brings himself to the very brink of a half-century with a push through the covers for a couple. A fine shot, the only scoring effort of the over.
61st over: South Africa 207-6 (du Plessis 47, Philander 20)
A maiden from Lyon. Right now I am profoundly jealous of anyone enjoying this view:
60th over: South Africa 207-6 (du Plessis 47, Philander 20)
Pattinson's first ball is an absolute ripper, jagging in off the seam and flying about four inches over the stumps with Philander a bemused bystander. It could so easily have taken a wicket, but it could also pretty easily have gone for four byes, but for Haddin's diving stop.
Incidentally, further developments in the Australia v South Africa sporting rivalry came today with the announcement that the nations' football teams would meet in a friendly in Sydney this May, dubbed a "World Cup farewell match", presumably because it gives Australia a chance to say farewell to their fans before travelling to Brazil, and South Africa a chance to say farewell to the concept of competing in the World Cup for the foreseeable future. Seems a bit cruel to me.
59th over: South Africa 204-6 (du Plessis 45, Philander 19)
Nathan Lyon gets the evening session under way, and the batsmen ease themselves in with a single each, before Du Plessis paddles the ball over his left shoulder for a couple.
Hello!
Hello world. Don't go anywhere: we've got another 40-odd overs to go today, in which South Africa should either score enough runs to avoid the follow-on, or get out having failed to make them (in which case Australia may well not enforce the follow-on anyway). The players should be back out in but a few short minutes, so hold on to your hats.
TEA
So that's the break. Six South African wickets have gone down across two sessions, but du Plessis - the resistance man - is still there with great support from Vermin Vernon Philander. Faf fu Plessis has been let off a caught behind by the umpire, dropped twice, and had a stumping missed, and has thus hazardously navigated his way to the verge of a half century. One more wicket will still signal a swift end, in all likelihood, but while these two are there, South Africa can still look to bat through the day and really hamper Australia's victory push. Who will triumph? Who will falter? Who will out-think the other? I will leave you with some words sent through by Daniel East, from his friend Baudelaire, then Simon Burnton will take up the commentary.
We rack our brains with subtle stratagems
and ruin massive armatures
before the splendid Creature may be seen
for whom our fatal longing makes us sob.
A fine night to all, and thanks for the company.
Updated
58th over: South Africa 200-6 (du Plessis 42 Philander 18)
Johnson bowls the last over before tea, but there is no late joy, just a couple of singles as this pair safely negotiate the session. The 200 comes up, and South Africa will be a little happier after this resistance.
57th over: South Africa 198-6 (du Plessis 41 Philander 17)
Another close call for du Plessis, this time facing Harris and nicking behind, but just wide of Haddin. The keeper took one of the best catches I've ever seen to get rid of Dean Elgar earlier today, but couldn't leap far enough for that one. Faf got two runs from it, then got a half volley that he utterly creamed for four on the cover drive. Held the pose. For about two minutes. Creamy.
56th over: South Africa 192-6 (du Plessis 35 Philander 17)
Philander is a very, very good lower-order batsman. Gets a short ball from Johnson on his hip, but just flicks it away for a run rather than panicking about it. Looked quite casual. Du Plessis gets a run to the on side, and Johnson over-corrects by going too wide of the off stump.
Good to see that Harris Love Day has made it as far as the editor-in-chief of Wisden India.
55th over: South Africa 190-6 (du Plessis 34 Philander 16)
Faf is shutting up shop this over against Harris. Up on his toes, dead straight bat, blocking everything away. It's the 55th over, the reverse that was there seems to have faded, which means there are another 25 until the new ball is due. A maiden.
54th over: South Africa 190-6 (du Plessis 34 Philander 16)
Two singles from this Lyon over. He never gives too much away, but he must be frustrated. Reckon he's lost at least ten Test wickets to keeping fumbles, mostly from Matthew Wade though.
53rd over: South Africa 188-6 (du Plessis 33 Philander 15)
This pair starting to look a bit more comfortable against pace. Harris comes back on, but Faf picks off two, runs a leg bye, then Philander drives three through midwicket, and Lyon puts in the best chase and sliding save that I've ever seen from a gangly awkward spin bowler. They're exception in their ground fielding these days.
52nd over: South Africa 182-6 (du Plessis 31 Philander 12)
There's an over the Australians may rue. They've missed Faf du Plessis twice in three balls off Lyon: first Haddin missed a routine stumping when Faf had a big swing and missed, then Doolan was moving the wrong way at short leg to intercept a flick. Big, big let-off for a batsman this stubborn. He got a single from the missed catch.
51st over: South Africa 181-6 (du Plessis 30 Philander 12)
Steve Smith comes on for the novelty hour, looking to confuse some South Africans. They are so confused they work five singles and don't hole out. Here's a terrific little story that's just come in from David Brannigan. Read on.
"It's nearly 11pm down here in southern Tasmania.We don't have Uncle Rupert's channel for watching the cricket action, but I have a good imagination, nurtured as a boy by listening to the radio, the mellifluous tones of Tone (Tony Charlton) during the Windies 'calypso cricket' tour in 60/61 particularly vivid, the excitement of the tied Test, indelible..."

"My tales however, of meeting some of the greats are as follows: In the summer of 62/63 I was tagged onto the tail of an U17 trip from Alice Springs to Port Augusta. I was 13. The highlight of the whole trip was a day trip to Adelaide Oval for a clinic with Vic Richardson and his grandsons Ian and Gregory. It was a good while afterwards before I realised who the grandsons were, but they weren't at the time, if you get me. I certainly knew who the great man was, having read avidly the exploits of the greats of the game, the Ashes encounters."
"I recall the great Victor as a bright-eyed very upright man. There were a few of the lads bowling and Vic was coaching at the bowling crease. One of the batsmen cracked a big straight drive and Vic just stuck out his hand and there was the ball. He was quite casual about it. I was most impressed! I can't remember anything that was said, even when I had a knock myself, but being the youngest in the group, I was probably indulged. Cheers mate. I'm a slow typer. It's now 11.24."
50th over: South Africa 176-6 (du Plessis 27 Philander 10)
Lyon is giving the ball some nice flight here, just floating it up to the other end. Controlled, he only concedes a single and a two, and has the batsmen remaining watchful.
49th over: South Africa 173-6 (du Plessis 26 Philander 8)
Whoosh, another five extras from Patto, as he bangs a bouncer way over Haddin's head for five wides. South Africa will gratefully accept all the freebies that the young mountain man can give them. Is a person from Dandenong called a Dandenong? Pattinson is looking like one, with all these sprayed deliveries. In between times he's bowling some nice ones though. Faf picks up a single, that's it.
"We have to discuss the dreaded F word," says Rudi Edsall. "If we flush them out for another 30 or so runs does Clarke even consider enforcing? Obviously it's worth getting them back out there for another possible Warnering with no Steyn but I kind of miss the follow on in modern cricket." Actually we don't have to discuss it, Rudi. It'll never happen. Clarke doesn't like it, and when your bowlers are working this hard, I can see his point. Unless you can roll a team for under a hundred, there's really no point risking the follow on, in favour of a rest and a session or two on the lash.
48th over: South Africa 167-6 (du Plessis 25 Philander 8)
Gervase asks, Gervase gets. Nathan Lyon is back, the youngest old man in the world, looking to make his mark on this innings. Philander drives a single, then du Plessis plays a rather extravagant lap shot, a real flourish as he almost ramped this ball, while down on one knee, high toward fine leg. Would have been an easy catch for a one-day field, but there was plenty of space there. He got two, then a single off a leading edge. Another unconvincing over.
47th over: South Africa 163-6 (du Plessis 22 Philander 7)
Four byes down the leg side to start this Pattinson over, Haddin got a glove to it but not enough purchase. It ends up being a dicey over for the batsmen though, Philander inside-edging for a single to square leg, then du Plessis edging from low on the bat away through gully for four.
A lot of Ryan Harris love is coming in over the Harris-Love Portal, also known as my email account. Gopal Bhagavatula asks to send his respects to SRH. "99 wickets in his 24 Tests," says Gopal, "is a testament to perseverance."
46th over: South Africa 154-6 (du Plessis 18 Philander 6)
Watson is dipping this ball. That one swerved in late, but too wide of the stumps to do much. Philander gets one, du Plessis gets one, then Philander edges three runs down to third man. This is their biggest over in a while, therefore.
"I know it's counter- cyclical, or perhaps just daft, but why isn't Nathan Lyon being brought on right now to tighten the screws and finish this off?" So asks Gervase Green. "Time is not that much an issue, and it seems to me Mitch in particular is looking a little tired, with plenty now sliding down. Pattison can't bowl long spells anyway, at the moment, so the stage is set for some tweak, surely?"

45th over: South Africa 149-6 (du Plessis 17 Philander 2)
Pattinson is continuing, and looking good in this over, which is a maiden to du Plessis. I wonder about his staying power. Australia have done well so far, but their selection was a gamble.
"How good is Harris?" ponders Tilo Fobes, presumably with rhetorical flourish. "I know we both love Siddle, but having strike bowlers around seems a good decision in hindsight. What's going to happen? I fear the Proteas will somehow bat it out. It's as inevitable as England losing on penalties, or England scoring under 250 in ODIs, or England blaming KP for everything, or Russia invading it's neighbours." Having strike bowlers is great as long as they're striking. All it takes is a couple of guys to bat long, and suddenly strike bowlers become struck.
44th over: South Africa 149-6 (du Plessis 17 Philander 2)
Watson probing away at Philander like John Starbuck with an enigmatic avocado. An edge runs to third man for two runs, Vern off the mark. The next five balls are defended with some care and without total control. James Steerforth puts in a bid for my Sentence of the Day award when he muses, "I must admit I am in danger of succumbing to the audacious lure of pomegranates." Ah, those jewelled red beauties, so attractive to regard, so unfulfilling to devour. They taunt.
43rd over: South Africa 147-6 (du Plessis 17 Philander 0)
Pattinson is back, and sends down a maiden that hints of a bit of bite from this pitch. He had the ball jagging from back of a length there, if too wide to play. The ever considered John Starbuck ponders the imponderable fruits: "My favourite fruit is avocado, but one is so often disappointed because of an inability to judge exactly when it's ripe enough; therefore my second favourite is banana, because you can't go wrong with that." Certainty versus possible joy. The avocado is the left-arm wrist spin of fruits.
42nd over: South Africa 147-6 (du Plessis 17 Philander 0)
Ah, Watteau de Cologne is resuming the charmingly scented attack, with Clarke hoping his reverse-swing man can get it going. Some people forget that last time he played here, Watson took what I understand was the second-fastest five-wicket haul in Test history. About 20 balls, it took him. I may be wrong. It happens. Today, he bowls six balls for a single.
41st over: South Africa 146-6 (du Plessis 16 Philander 0)
Harris is attacking the stumps a lot against Philander, maybe a bit too much, as Philander is able to keep shovelling the ball down to mid on, but he can't get it into a gap for a score. A maiden. "Mandarins!" exults the delightfully named Nicholas Darling. I can just see him skipping down a road through autumn leaves. "Mandarins are so satisfyingly easy to peel and break apart (like this SA lower order?)" Hope springs eternal in the human breast, Nicholas. The heart is a hummingbird, or something along those lines.
Updated
40th over: South Africa 146-6 (du Plessis 16 Philander 0)
A maiden from Johnson to du Plessis, mixing short balls with an off stump line. If you're interested in Afghanistan's team, they've bowled very nicely to Sri Lanka almost all night, but let it slip slightly 49 from the last four overs, letting Lanka get up to 253. Not a huge total, but if it were more like 220 you'd fancy the newcomers' chances a bit more. They've produced some terrific batting innings before though, so let's see.
Updated
39th over: South Africa 146-6 (du Plessis 16)
It was a busy over, that one. Du Plessis took a two and a one, Duminy took two doubles, then was dismissed from the last ball. Stats guru Ric Finlay is watching an important countdown. Harris, unlike Hilfenhaus, has a chance in front of him to move on to those three figures.
Updated
WICKET! Duminy 4, c Haddin b Harris
The floating-bone man has done it again. He's been reversing it for a while, now he bowls one across JP Duminy that moves away, Duminy drives at the full ball and can only edge behind. Australia right on top now.
38th over: South Africa 139-5 (du Plessis 13 Duminy 0)
Haddin puts in a ripper of a stop as Johnson scorches one down leg side. He's got a left-handed batsman in Duminy to bowl to, so Johnson is coming over the wicket with his left-arm reasonably brisk deliveries. Then with the last ball Johnson hits Duminy, quite hard, on the back as he tries to duck. Faf took a single early in the over, and that's the only score. Tough times for the batsmen right now, the Australians are making it hostile, but we've seen how batsmen can prosper once they weather the early aggression.
What's going on out there in OBO land? Where is everybody? Where are you reading along from? What's going to happen? What's your favourite fruit and why?
Updated
37th over: South Africa 138-5 (du Plessis 13 Duminy 0)
Harris keeps swinging this ball all over the place. One delivery helps Faf out, it swings so much he's able to glance it fine for four. Then he takes a single. He's accumulating nicely.
36th over: South Africa 133-5 (du Plessis 8 Duminy 0)
Just looking at that de Villiers dismissal again - flat-footed, I think he was expecting it to swing in toward him, instead it held its line and went across, and he got suckered into following it on the drive. Big nick, easily avoidable but Johnson managed to fool him. ABDV goes, JPD takes his place, and the only score was a du Plessis single before de Villiers departed.
WICKET! de Villiers 14, c Clarke b Johnson
Oh, that's huge! The big one is down, AB de Villers is gone, and who else but Mitchell Johnson takes the wicket. AB got half forward, probed at a ball angled across him, and edged through to slip.
35th over: South Africa 132-4 (de Villiers 14, du Plessis 7)
Faf enjoys that little holiday, and comes back sufficiently refreshed to clip two runs through midwicket, then a single to fine leg. Harris is mixing up the way he's holding the ball, sometimes curving it in with the reverse swing, sometimes holding the shiny side the other way to send it straight. It's lottery time. I should also draw to your attention the Twitter account of Sexy Ryan Harris, for those who find a little more to love in Australia's half-fridge, half-man hybrid.
https://twitter.com/SexyRyanHarris
A bit rude, that
Faf du Plessis is now testing etiquette himself by having run off the field for about five minutes to fix up something to do with pads. He's lucky not to be given out retired, taking this long.
34th over: South Africa 129-4 (de Villiers 14, du Plessis 4)
A bit of weird byplay there as du Plessis dropped a ball at his feet, then picked it up to throw to the fieldsman, but found himself getting scolded roundly by several close fieldsmen for touching it. Just relax, guys, think of a dolphin or something. He gets a single off the last ball. AB got one from the first.
33rd over: South Africa 127-4 (de Villiers 13, du Plessis 3)
Ryan Harris bowled beautifully before lunch, he knocked over Hashim Amla with a peach of an inswinger, then immediately had du Plessis nicking behind but didn't review the not-out decision. If you haven't read this, you should: our friend Will Macpherson on the beauty and fragility of Harris' late-blossoming career. This over, Harris is bowling just as beautifully, a maiden that draws an edge, then nearly bowls du Plessis on the inswinging yorker. Spot on.
They have to fill the time somehow
If you don't have the pleasure of viewing Australia's lunchtime cricket show at the moment, there's something happening between Stuart Clark and a rugby player who isn't sure what he's doing there. As best I can tell they're re-enacting that scene from Breaking Bad where Jesse is held prisoner in a buried concrete tank. Possibly with a few more questions being asked about novelty cricket matters, and fewer about the optimum application of methylamine precursor. We've also had a long discussion about pink cricket balls, which are currently being used in a day-night round of the Sheffield Shield first-class competition. I'd like to tell you more, but I have the sound down, which is largely why I'm feeling so happy today.
Lunch on
Yes, thanks to Scott for the last couple of hours of fun - a bit for both sides there, but the Safrican fans will be worried at having frittered away so many wickets. Australian fans will be worried about AB de Villiers, I can assure you. I'm told there was at least one case of a person lamenting my absence on the OBO yesterday, so to the gentleman in question, I hope you're reassured as of today. I will say that I too have had occasions of being cripplingly hungover and wanting Geoff Lemon to save me, but that was because the hangover was so bad I didn't actually know who I was. Today, however, I am bright-eyed and metaphorically bushy-tailed, having just fuelled up on a large Vietnamese dinner before taking to the keyboard. There will be no stopping us, OBO - you and I together will do beautiful things, we'll look like the movie poster to Eternal Sunshine of the Spotless Mind.
Advantage Australia ... Fair?
Clarke's decision to declare is vindicated as Australia take session honours with four wickets, even accounting for adventurous batting that brought 127 runs for the home side.
They still trail by 367 runs, however, and Australia's quicks looked to have rediscovered the art of reverse swing in that session.
I've been Scott Heinrich and you've been wonderful company. I now place you in the safe hands of Geoff Lemon for the afternoon session.
32nd over: South Africa 127-4 (de Villiers 13, du Plessis 3)
Pattinson's latest offering takes us to the first long break of the day, an over punctuated by a nice pull from de Villiers which earns two backward of square.
31st over: South Africa 124-4 (de Villiers 11, du Plessis 2)
Both batsmen keep a watchful brief against Harris, and fair enough. He's making the ball do some amazing things all of a sudden. Time for one more over before lunch.
30th over: South Africa 124-4 (de Villiers 11, du Plessis 2)
Pattinson also gains some movement off the pitch, and in the air, suggesting this deck isn't as lifeless as we were led to believe.
Updated
29th over: South Africa 121-4 (de Villiers 10, du Plessis 0)
Harris gets the ball to talk some more, nipping another one back and appealing for du Plessis's wicket, leg before, but there is an inside edge there. Still, ominously good fast bowling from Harris.
Wicket! Amla b Harris 38 (South Africa 121-4)
What - A- Delivery. Harris pulls an absolute beauty from somewhere, nipping one back of a length to expose a hitherto non-existent gap in Amla's defences ... the result: stumps messed up.
Top-notch seam bowling and, for all of South Africa's free scoring, they are now in strife.
28th over: South Africa 121-3 (Amla 38, de Villiers 10)
Pattinson is ever so wide outside off-stump but that is more than enough for Amla, who brutalises the young paceman through the covers for four more. You almost feel sorry for the ball after a shot like that.
27th over: South Africa 116-3 (Amla 33, de Villiers 10)
Classically tight from Harris until the end of the over when de Villiers leans into a full one and drives through extra cover for four. Way to ruin a good over, Rhino.
Gervase Green has something to say, though not sure precisely what it is: "I'm not sure if one-word epithets ever do justice to anyone very interesting, but this Test series begs a few. Dale Steyn is nothing if not "menacing" - I bet you the physio delegated to a nurse or back room minion the news that it was more than a hammy twinge - but Ryan Harris is even easier. He is nothing if not "busy". The only thing quicker than his run-up is his run-back. They barely fitted in the advert for craap food this time, so he's right up there for (his own kind of) pace. Great."
26th over: South Africa 111-3 (Amla 32, de Villiers 6)
Johnson makes way for Pattinson, whom Australia will hope has recovered from his last over which cost 18 runs. He has. He returns with a maiden.
Here's another 18-run over, for the nostalgic and ignorant among us.
Updated
25th over: South Africa 111-3 (Amla 32, de Villiers 6)
Harris on for Lyon. Beautifully, and brutally, brilliant shotmaking again from Amla, who bludgeons the returning paceman through the covers for four more.
24th over: South Africa 106-3 (Amla 28, de Villiers 6)
Amla again uses his feet to advantage, punching a not-awful ball from Johnson past mid-off for four. The boy can bat, if you needed telling.
Here's Deepak: "Looks like the Mitchination has begun. Saffers, beware...."
Updated
23rd over: South Africa 102-3 (Amla 24, de Villiers 6)
Take That! De Villiers marches down the pitch and smacks Lyon down the ground for four.
How deep is your glove, AB?
Updated
22nd over: South Africa 96-3 (Amla 23, de Villiers 1)
De Villiers wastes no time getting comfortable, pulling Johnson for one with a shot that would have earned three more most days of the week.
Really critical juncture of the match. Add a quick wicket or two and it's hard to see how South Africa could get out of this.
Updated
Wicket! Peterson c Haddin b Johnson 53 (South Africa 95-3)
A wicket against the tide of play, or maybe because of it, as Peterson follows a shortish one off Johnson down leg-side, but manages only to glove it to the waiting mits of Haddin.
A soft dismissal, really., but Australia are coack-a-hoop and will take that, thank you very much.
21st over: South Africa 95-2 (Peterson 53, Amla 23)
Beautiful footwork from Amla enables him to send Lyon through the covers for four more. The scoring rate is plenty quick enough, almost five runs per over, suggesting South Africa are going after this total, rather than simply ensuring they don't lose that match.
Updated
20th over: South Africa 89-2 (Peterson 52, Amla 18)
Peterson will have some war wounds to show the grandkids after deciding to let a short one from Johnson hit his arm rather than his bat. Ouch. But his wicket stays intact.
19th over: South Africa 89-2 (Peterson 52, Amla 18)
Amla shows his penchant for spin with a couple of casual twos off Lyon.
18th over: South Africa 84-2 (Peterson 51, Amla 14)
Eighteen runs from Pattinson's previous over is quite enough for Clarke and Johnson returns to the fray.
It's all the same to Peterson, who collects three past mid-off to register his fifty from about as many balls. Excellent, counter-punching batting after the loss of two early wickets.
17th over: South Africa 81-2 (Peterson 48, Amla 14)
Lyon into the attack now. More of the same from South Africa after the break, however, as Amla collects four from a half-volley.
16th over: South Africa 73-2 (Peterson 47, Amla 7)
Peterson helps himself to a chancy boundary over slip first ball after the drinks break before showing a great deal more class with an on-drive that yields three more runs.
Strange old shot later in the over earns four more, a sort of hybrid pull-scoop-chip over mid-wicket.
The blood-let doesn't end there, with another boundary through extra-cover and two runs behind square to take 18 runs off Pattinson's over.
15th over: South Africa 55-2 (Peterson 30, Amla 6)
Amla gets off the mark courtesy of a misfield at mid-on but no need for intervention later in the over as a delightful off-drive brings four runs. Drinks please.
Updated
14th over: South Africa 48-2 (Peterson 29, Amla 0)
Too short from Pattinson and too easy for Peterson, who pulls for four.
The batsman then counts his blessings as a loose square drive finds the outstretched hands of Lyon at point ... but is dropped. Very tough chance.
13th over: South Africa 43-2 (Peterson 24, Amla 0)
Not bad from Watson, which is something I guess.
12th over: South Africa 42-2 (Peterson 23, Amla 0)
Did I say how good that catch was from Haddin?
It was better than this.
Updated
Wicket! Elgar c Haddin b Pattinson 11 (South Africa 42-2)
Wonderful delivery and wonderful catch as Pattinson ties up Elgar and brings an inside edge that in turn brings out the best in Haddin, who pouches a one-handed screamer to his right. Another key breakthrough and a fine return to action by Pattinson.
Martin Sinclair has something to share with us: "Many years ago, my wife and I were in Sydney doing as all Brits on a work visa do, namely drinking in a bar during the day. At the time, there was a sumo bash organised in Sydney to promote trade with Japan or some such nonsense, so there were a few bona fide sumo wrestlers in the city. Lo and behold, three of them walked into the bar in the full regalia and ordered some tea. I went up to order some more beer and stood next to one of them. He was ENORMOUS. Unfortunately, he also stank. BO that could curdle a pint at thirty paces. Impressive and unimpressive in the same moment."
11th over: South Africa 41-1 (Peterson 23, Elgar 11)
Double change sees Watson brought into the attack. Welcome back, Watto. Thought we might never see ye again. Peterson takes it up to the all-rounder, collecting two boundaries and jumping out of his crease. Not sure Watson's appreciating the treatment.
Rocket fires up: "Great stuff from Tilo - of course Nick Riewoldt is from good German stock!"
10th over: South Africa 31-1 (Peterson 13, Elgar 11)
Hello James Pattinson. How we've missed you. Peterson shows great judgement to leave one that most wouldn't before gobbling up a slightly wide one that glances just wide of Haddin.
Who's Pattinson, I hear you say. This is he:
Updated
9th over: South Africa 23-1 (Peterson 6, Elgar 11)
This time it's Elgar who finds the rope, a push through mid-off off Harris.
8th over: South Africa 19-1 (Peterson 6, Elgar 7)
Rare error in the field from Warner, whose errant return results in two overthrows before Elgar picks up three past square and Peterson helps himself to a boundary. Huh, 11 runs off Johnson's over.
Updated
7th over: South Africa 8-1 (Peterson 2, Elgar 0)
Another tight over from Harris and another ruddy maiden.
That's not exciting.
But this email from Thilo Fobes, the length of which would normally be disregarded, is:
"Dear Obo'ers,
Good work as usual. I have something to add to unimpressive encounters with cricketers and sportspeople in general. A bit of background.
Being born and bred in Germany am obviously a latecomer to the glory that is test cricket. Moved to Melbourne in mid 2010 and had my first rule explanation over a pint by an englishman in the motherland (hat tip Ross Hiscock, who came to dread that decision when I taunted him over England's "performance" during these last ashes with no end). My first attended match was one of the worst boxing days ever, Australia crumbling to 98 not out at the MCG in 2010. I came to love cricket nonetheless, probably because supporting Australia allows me to barrack against England, a too familiar feeling for any self-respecting German.
This appreciation of cricket lead me to visit the magnificent Adelaide Oval during my first trip to the city of churches during the Adelaide festival 2012. I was lucky, as I did not know it was gonna get renovated. A truly beautiful ground, especially approached along the river on bike. There was a shield game on, last day of a draw between Tassie and SA. I sat on the famous hill under the even more famous scoreboard. Next day at the airport I ran into the team wearing their Tasmania Tigers gear. I recognized Krejza and my love for spinners almost made me approach him. Also saw a man being "mobbed" by two indian dudes. Turned out to be Punter Ponting. I was so surprised by how small he was that I did not talk to him, even though they were not a lot of people around and he would have been impressed with me attending a shield game, with less than 30 in the ground. This airport encounter is the opposite of running into St Kilda and being surprised how much bigger and stronger Nick Riewoldt looked in real live compared to the telly. Also once encountered soccer team Mönchengladbach, archrival of my team Cologne. Thus I completed the hattrick of non-exiting airport encounters with sportstars.
Regards,

Thilo Fobes
p.s. As great as it is to see Afghanistan stage a rise int cricket it is a shame that Lasith Malinga who is playing them in the Asia cup right now is not playing test Cricket anymore. Also wanna point out that I can claim to be a not fairweather Australian cricket fan with supporting them through their worst period in a long time. Very unaustralian I know."
Yes, very unAustralian ... you German!
Updated
6th over: South Africa 8-1 (Peterson 2, Elgar 0)
Johnson goes short but Elgar is up to the task ... at least he manages to get under the bouncers.
5th over: South Africa 7-1 (Peterson 1, Elgar 0)
Big breakthrough for Australia. Did I really need to say that?
Updated
Wicket! Smith c Haddin b Harris 5 (South Africa 7-1)
Smith's woes continue as he feathers an admittedly wondrous ball from Harris, one that nips off a fullish length, into the gloves of Haddin.
The early breakthrough comes for Australia. For Smith, at least it wasn't Johnson who got him.
4th over: South Africa 7-0 (Smith 5, Peterson 1)
Peterson goes after one from Johnson that's wide outside off-stump. He misses everything. Another maiden.
3rd over: South Africa 7-0 (Smith 5, Peterson 1)
Harris keeps things tighter than a fish's what-have-you...
Review: Smith is trapped back on his crease by Harris, but high on his pads, and Australia refer the not-out decision upstairs. Really bad call: a bit high and missing off by some way.
2nd over: South Africa 7-0 (Smith 5, Peterson 1)
Mitch operates from the other end as Peterson gets his scoring under way with a glanced single.
That brings Smith on strike - and we all want to see that - but a single first ball means we have to wait for anything meaningful.
1st over: South Africa 5-0 (Smith 4, Peterson 0)
Plenty of movement in the air in Harris's first over but first blood to Smith, who punches an overpitched ball through point for four.
Updated
Well I do declare
Australia have declared on their overnight score.
Interesting.
Two days have already passed in this Test, so with early use of the pitch at Michael Clarke's disposal perhaps it's not the most surprising of calls.
Good evening/morning....
We're set for a great day's play in Cape Town in the deciding test of this gripping series. With a declaration certain some time this morning, will we see the South Africans crumble again against the Aussie quicks as they did in Pretoria? Or maybe not?
Thanks to last night's downpour which ended play early, play is set to start half an hour earlier today at 7pm (AEST) so keep close and Scott Heinrich will be with you shortly.