This production has had an eventful history. It was yanked out of the Royal Court schedule at a time when the theatre was encouraging people to come forward with stories of sexual harassment and abuse of power. After allegations of censorship, the production was quickly reinstated; and quite right too.
Andrea Dunbar's play, described when it first appeared in 1982 as "hilariously raunchy" and a piece of "naughty northern naturalism", now strikes me as a bleak and brilliant testament to a life of fleeting pleasure and diminished expectations. Time has a strange effect on plays. We now know too much about the predatoriness of older men to find the opening scene as wildly funny as people seemingly did in 1982.
Rita and Sue, two 15-year-old girls, are given a lift home by the married 27-year-old Bob, after a night of babysitting. Having enticed them with extra money, Bob has sex with each girl in turn. Rita and Sue may not be as virginally innocent as Bob assumes. But, although the two girls are compliant, there is no disguising the fact that what we are watching is a mature man exploiting a pair of schoolgirls.
As with her other plays, The Arbor and Shirley, Dunbar was clearly writing from her own experience on Bradford's Buttershaw council estate and, while the play has flashes of humour, what hits one is the sadness of the world it depicts. Sue lives in a household where you could cut the rancour with a knife. Rita feels increasing guilt over the nocturnal escapades with Bob. Michelle, Bob's wife, is justifiably suspicious of her husband and lays traps to ensnare the babysitters. Even Bob seems mired in self-delusion.
It would be stretching things to call Dunbar a political writer but she was alert to the fact that Rita and Sue are being exploited economically as well as sexually. On leaving school, they both work at the local mill on a Youth Training Scheme: a system that even at the time was attacked for supplying cheap labour. Because of a strike, both girls are also on half-pay. And even Bob finds his sexual adventurism is affected by the economic situation. He makes a decent living as a freelance handyman by undercutting the official cost of installing things like gas cookers. As the work dries up, however, he is forced to sell the car that has become his private passion pit.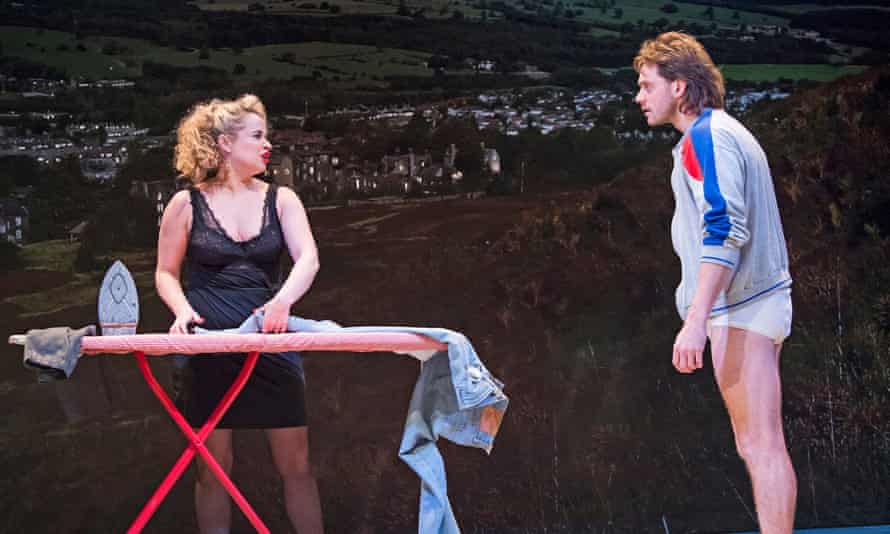 This is a play of sharp observation rather than fierce polemic but it is possible, in retrospect, to see it as part of a pattern of Royal Court works of the early 1980s that examined a national malaise. GF Newman's Operation Bad Apple suggested that corruption was endemic inside the Metropolitan Police. Trevor Griffiths's Oi for England, first seen on television, exposed us to a virulent skinhead culture that flirted with fascism. Caryl Churchill's Top Girls, set in an employment agency, argued that it was counter-productive for women simply to replicate a ruthless male success ethic. While Dunbar's play is not palpably political, there's a crucial scene in which Bob tells Rita and Sue: "There's no hope for kids today and it's all Maggie Thatcher's fault. She'll bring total destruction. Just you wait and see." Like her contemporaries at the Court, Dunbar was sensitive to cultural shifts. Writing from personal experience, she shows us lives blighted by the harsh reality of a decade that was to lead to 3 million unemployed.
To put it bluntly, Dunbar's play is much closer to Edward Bond's Saved than to Confessions of a Window Cleaner: a portrait of wasted lives rather than a sex romp. But Kate Wasserberg's production, on which Max Stafford-Clark initially worked, and which is a collaboration between Out of Joint, the Octagon in Bolton and the Royal Court, rightly doesn't read us lectures. It keeps everything clear and simple and gets a set of honest, unglamorised performances. Taj Atwal and Gemma Dobson, making her stage debut, are excellent as Rita and Sue, showing how their initial giggling complicity gives way to mutual estrangement. James Atherton as Bob hints at the character's growing self-awareness, and there is first-rate support from Samantha Robinson as his abused wife, and from Sally Bankes and David Walker as Sue's parents, steeped in shared hostility.
The play is a document of its times. If it stands up well today, it is because Dunbar's unflinching portrait of a world of limited horizons and urban desolation still seems chillingly resonant.