It's Christmas at a suburban mall, and Santa (Kenan Thompson) and his helper elf (Kate McKinnon) are taking requests from a queue of kids.

"Can you tell me," says little Tyler, "what Al Franken did?"
Santa demurs: Franken is on … the naughty list.
"And what about Roy Moore?"
"It's not really a list, it's more of a registry," McKinnon snaps.
"I wanted to follow up on Tyler's question," says a little girl. "Is President Trump on the naughty list?"
"Our president may have done a few naughty things …" says Santa.
"Nineteen accusers, Google it," the elf replies.
Live from New York: it's Saturday night. James Franco is back, his fourth time as host, "which is the most you can do without it being special". Fourth time around, he says, they don't write you a monologue. He takes questions from the audience.
"Do you feel like your career has an overarching theme?" asks a woman while Seth Rogen tries to hide behind her.
"Seth, what's going on man?" Franco says. "You're just here in the audience to see me host the show?"
"No," says Rogen, "I'm just here in general … luckily I'm a huge SZA fan and it just worked out."
Jonah Hill and Steve Martin are there, too. Surprise! Rogen and Hill join Franco on stage, which I presume is a show of bro-hood but makes it seem like he's too shy to be there on his own.
First sketch: in an American office, the staff have assembled to say goodbye to Doug and Charlie, both being fired for sexual harassment. Doug is a suit played by Franco; Charlie is a security guard played by Thompson. The joke: everyone thinks Doug is a creep and Charlie is hilarious, because "he's a charming old black man". It runs out of steam before it lands its point.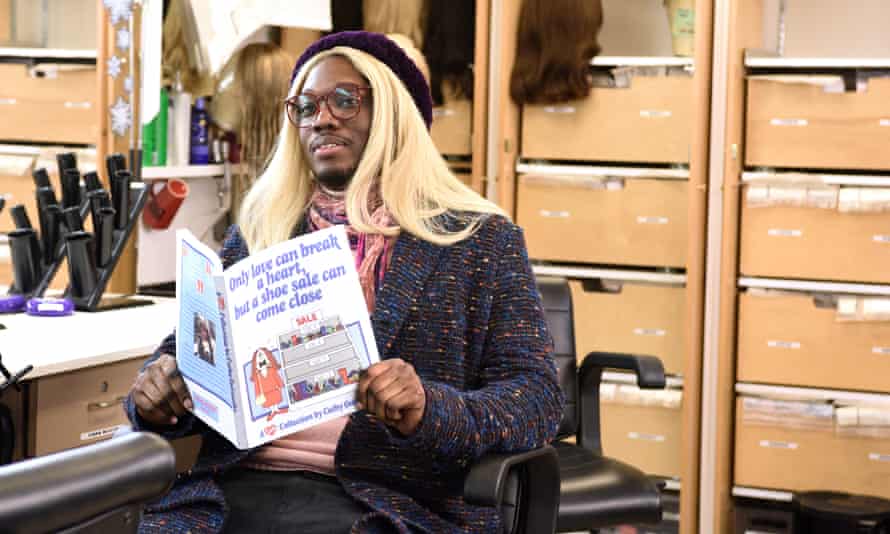 Next: Franco and McKinnon are gift wrappers at Bloomingdales but then Franco cuts his finger and starts bleeding over everything. There's such an abundance of fake blood I can only watch through one eye at a time as Leslie Jones, playing a customer, retches. She may not be acting. I feel her!
A new digital short: Scrudge is a millennial Scrooge at a Christmas party. He calls the apartment inexpensive, makes fun of the Wes Anderson DVD collection, steals the cocaine – "I literally just gave it back to you" – and takes Franco's last cigarette.
"Scrudge," says Franco, "you're kind of an asshole …"
He shows Scrudge what everyone in the party really thinks of him.
"He's just my roommate … he's not really my friend. I don't know how much longer I wanna live with him," Kyle Mooney says.
"I shouldn't be here," says Scrudge, apologizing to the party, "I'm truly sorry." Then he moons them.
An Iowa City spelling bee goes awry with Franco as a sadistic host in wire-rimmed glasses and a sweater vest. "At least the kids had fun," says Alex Moffat to his co-host, Kate McKinnon. "They did not," she replies. Neither did I.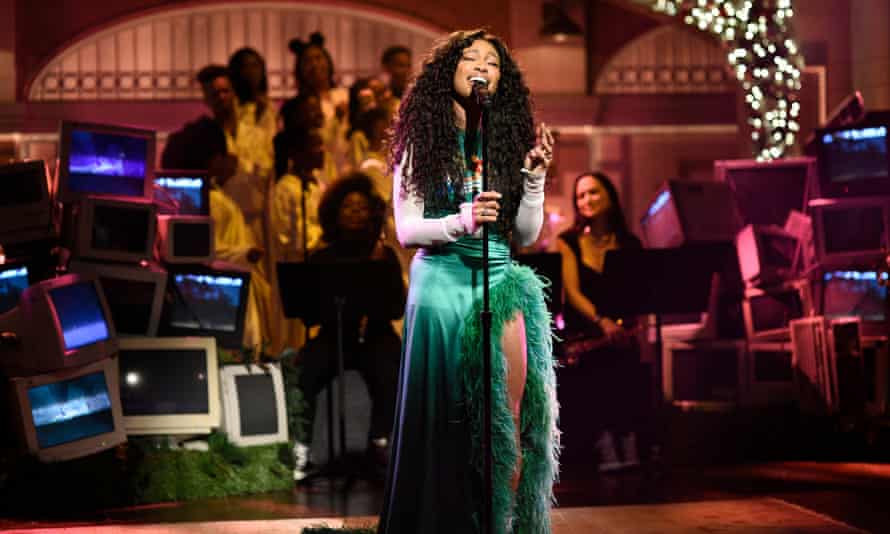 SZA sings The Weekend next. Did you know how to pronounce SZA? It's "SIZZ—uh". Now we both know. She's great and has a super cool backing crew of lady singers and wind instrument players. Millions of women watching wish they hadn't quit clarinet in sixth grade.
Weekend Update! The anchors cover Jerusalem, "our sexual harrassment-themed advent calendar", Roy Moore, the president's health and his Hanukkah party. Cecily Strong pops in as Michael Che's drug-addicted neighbor Kathy Anne, to discuss Franken's resignation and lack of apology.
"Why are you gonna resign if you ain't gonna apologize? … I didn't resign from Waffle House because I wasn't stealing syrup."
And then, the best thing in this episode: Che is "A White Woman Named Gretchen". He goes deep undercover: "I'm talking … crochet hat, several scarves at time." He also wears a long blond wig.
The camera follows Che as he tries activities beloved of liberal white women: Sunday brunch, dinner with friends – "your masculinity is mad toxic right now" – conquering manspreaders on the subway.
"I was only a liberal white woman for a day," he says, "But in that time, I learned a lot … I learned that sometimes women can be really mean to each other. And sometimes they just get random money in the mail from their dads."
Franco is back in the next sketch, as a lawyer who doesn't know that "sza" is slang for pizza, in addition to the name of a top recording artist. It fills some time.
Sentimental music plays as Strong is a hard-hitting businesswoman softened by the holiday season, handing a coffee and a Danish to Franco, a homeless man in a yellow bucket hat. She takes him shopping for a flannel shirt and a lovely coat.
"Hey," she says, "you wanna keep going?" They go for a ride in a pedicab, she takes him home to her sun-drenched apartment and helps him wash mustard out of his hair. But then when she tries to get him to shave his beard, he stops her: "It's for a part," he says. "I'm James Franco."
He's been method acting the whole time. So much for charity.
SZA comes back for her second song, Love Galore, which is super groovy. She's wearing amazing flame boots.
And finally, Franco is at home for a family reunion, where he comes across "Pretty Mandy" – Heidi Strong as a drug addicted-cousin. Dave Franco makes a cameo appearance, but should two of the biggest parts for women in one episode be making fun of addicts?
It's something to chew on during the closing credits, when Franco and his bros take a bow alongside SZA. Merry Christmas!