In the dimly lit art-deco splendour of a Knightsbridge hotel bar, actor Alison Brie is immaculately coiffed (artfully tousled bob) and costumed (persimmon formal day dress) for our interview. The 34-year-old veteran of Mad Men and Community, now positioned to break out in her Netflix vehicle GLOW, radiates the steely poise and self-possessed charm of a career diplomat's wife.
Best known for her Mad Men role as Trudy, the reluctantly woke Stepford Wife of oleaginous ad account exec Pete Campbell, Brie's tinkling, musical laugh as she deftly scoops a handful of rice crackers from the proffered silver bowl ("These are my achilles heel") is straight out of Trudy's playbook. Her earnest perkiness, recognisable from her turn as Community's relentlessly bubbly ingenue Annie, is on display, too.
But it's a credit to the skills of this South Pasadena-bred acting wonk that she is virtually unrecognisable in upcoming 80s kitschfest GLOW as Ruth, a badly permed Hollywood bit-player turned gung-ho wrestling baddie. GLOW stands for Gorgeous Ladies of Wrestling, and this delightful 10-episode show-within-a-show is a loving homage to the eponymous low-budget female wrestling TV league that aired from 1986 to 1990.
Even though "mediocre" is the highest praise one might realistically lavish on the original GLOW, that unabashed car crash of rope-a-dopes and soap opera tropes, inept raps and crap skits – performed by actors and occasionally interspersed with actual wrestling – lives on in cult infamy. A 2011 documentary on the phenomenon of the same name kept the flame bright, and by the time writers Liz Flahive and Carly Mensch successfully pitched it to Orange Is the New Black creator Jenji Kohan, Brie was eager to be part of its continuing legacy.
"GLOW is such a unique animal," she reflects, in her precise, cultured tones. "It's really unlike contemporary wrestling that is being done today. On the one side, it's about physicality, feeling comfortable and powerful within yourself, and it's also about discovering your inner warrior and your alter ego; another personality. Especially for the women here, who can be messy and aggressive in ways that women [in real life] so often feel like they can't."
Brie's role model for her inner warrior is her mother, a "tough cookie" who was "that working single mom who did it all: working, getting her master's degree, getting my sister and me to school. Definitely that's where I've got my work ethic from". That work ethic powered Brie through CalArts' prestigious theatre programme, including a year in Glasgow, where she struggled to understand the local accent. "They'd say things to me at length, and I'd just ... " She mimes clueless nodding: "I'd agree to everything. I got a lot of quizzical looks."
Right out of university, Brie scored her first television job: an evil hairdresser on an episode of Hannah Montana. "For the audition, I decided to do a Long Island accent," she says, "and it's what got me the role. When I was waiting out in the hall, I heard them telling the other actresses to do it with that accent, which blindsided all of them." She laughs: "And when we went to shoot the show they said: 'It's wonderful, just lose the accent.'"
GLOW's opening scene sees Brie's character enduring a crucifying audition for a one-line part. Brie can relate. "I've had my fair share of mortifying experiences," she says. "I've auditioned for episodes of Entourage where you had to go in a bikini top. 'Oh, OK, my whole shirt should be off … I'll just be in the bikini? Great, no problem!'" She flashes a rictus grin. "You suffer those mini-humiliations all the time." And did she get the bikini job? "No I did not. And that's crushing, of course."
In 2007, she got the call that she'd been cast in AMC's Mad Men, and two years later she was a featured player in NBC's Community as well. It's rare to be a regular on two hit shows at the same time, and even rarer to film for the two shows in one day, as Brie occasionally did.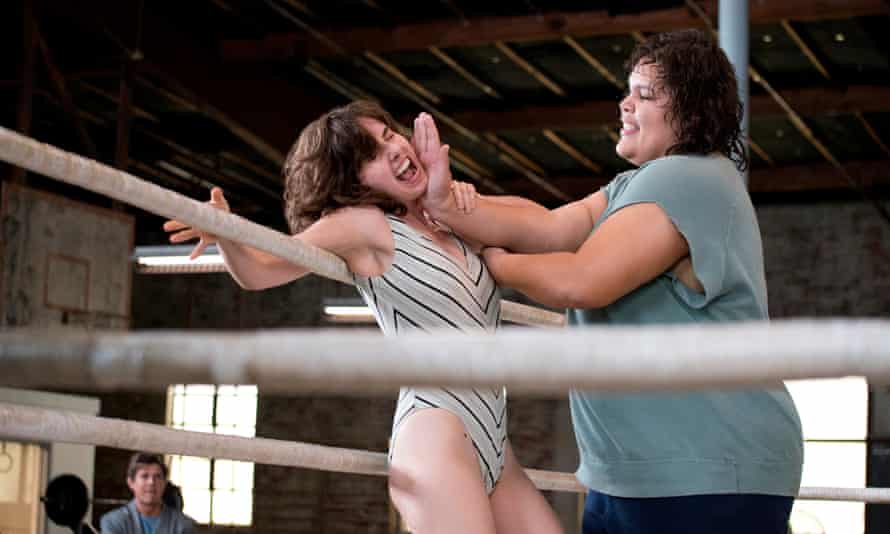 She delicately munches a rice cracker as she considers her fortune. "It was a very exciting time. They were my first two real jobs. To have them simultaneously was just incredible. AMC was just starting to do scripted television; Mad Men was their first original series. And Community was part of NBC's second heyday, where The Office, 30 Rock and Parks and Recreation was the landscape we were working in. As an actress it was very fulfilling because the shows were so different."
Not only did Mad Men and Community feature actors who are now on some of today's most talked-about television shows (The Handmaid's Tale, Atlanta), but they were both endlessly savoured, sliced and diced by fan wikis and YouTube pundits.
Community in particular was the kind of nerd catnip (much like Arrested Development), that galvanised the faithful to agitate for its life beyond terrestrial networks to streaming services. Thanks to the special alchemy between creator-writer Dan Harmon and the cast, the sitcom about a community college study group transcended the standard "workplace comedy" cliches, morphing into a cherished oddball with its cheerfully mega-meta in-jokes.
"Brie made very clever choices with Mad Men and Community," says Steven Daly, Vanity Fair contributing editor and cultural critic. "They were acclaimed ensemble pieces that became sleeper hits slightly outwith the realm of 'prestige TV' [ie premium cable channels such as HBO and Showtime]. As an important part of these two beloved series, she's now able to parlay her cult status into her first foray into prestige TV, where she is Netflix's marquee name in GLOW."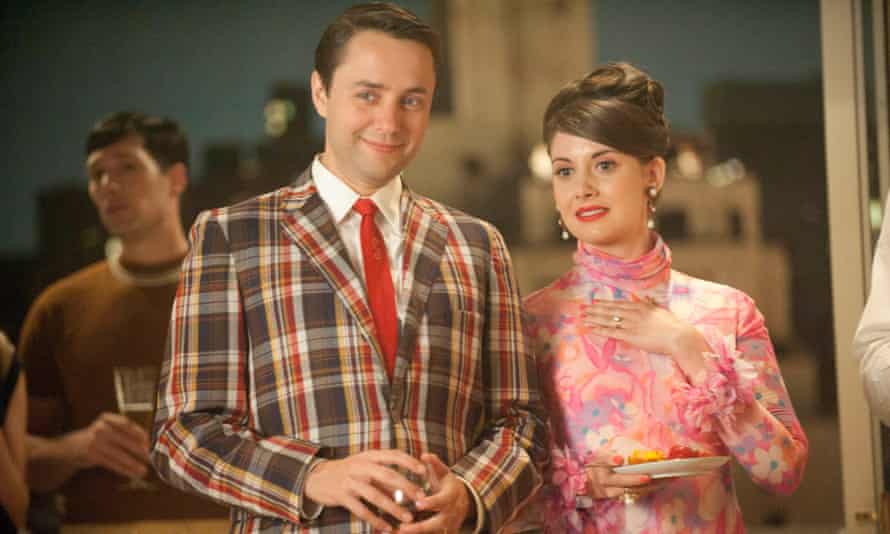 Once established, Brie moved into film. Her bawdy-medieval-nuns comedy The Little Hours is out in the US this summer, and she's been cast in Spielberg's upcoming government secrets drama The Papers. But GLOW offered something she'd been missing: a chance "to shatter prior images of myself. I was ready to get my hands dirty for this role and play something edgier for me."
With dirty and edgy on her wish list, Brie got what she was looking for, courtesy of the show's upfront nudity, which she describes as "freeing". "Carly and Liz talked about how this show was about women owning their bodies," she says. "They wanted nudity to be part of the show, not in an exploitive or gratuitous way, but as women existing in their bodies in a confident way. They also wanted it to be as realistic as possible; they didn't want a sex scene where someone's wearing a bra."
The braless sex scene in question turns out to be a mini-Mad Men reunion in episode one, with actor Rich Sommer, previously known as Sterling Cooper's cloddish media booker Harry Crane. Sommer turns up in GLOW as the gormless, cheating husband of Ruth's best friend Debbie. "That sex scene was the first thing we shot for the whole series," Brie recalls. "I think it was good to rip off the Band-Aid. They didn't cast him until four days before we shot that scene, and I was so relieved when I found out it was going to be Rich, because Rich is such a good actor, and that was mostly what I cared about. Also, it was my first fully nude scene, let alone sex scene, and it is nice to do it with someone you know. It takes the edge off a little."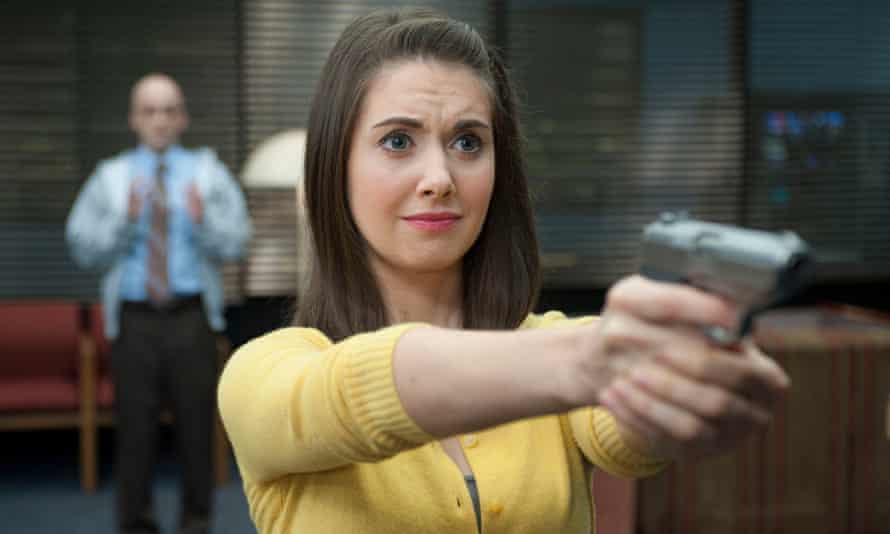 It's one of those comedically awkward, unsexy sex scenes, a queasy blend of desperation and guilt. Adding an extra layer for the viewer is the disorientation of seeing "Trudy" and "Harry" going at it, before we've had time to adjust to their characters. "In terms of breaking free from the preconceived notion that people might have, then right off the bat, if you're imagining me from Mad Men: here's some shock therapy!"
In her characterisations of Mad Men's company wife and GLOW's DIY action heroine, Brie has traced a televisual line from second to third-wave feminism. Both Trudy and Ruth strive to create a world for themselves in which they achieve their fiercely nurtured dreams, though Trudy's remained resolutely domestic.
"Trudy did have ambitions, but they all existed within the household," says Brie. "I think Trudy's goals were always to be an excellent wife and to help make her husband more successful. She wanted to be part of a successful team. But she was not one to be trifled with."
Brie is convinced that despite their difficulties, Trudy and Pete ended up Learjetting into a happily-ever-after, and smiles at Mad Man creator Matthew Weiner's assertion that Trudy would be a "dynamite old lady". Says Brie: "I see her as a 1990s Golden Girl, back in New York, living in a beautiful apartment, and all her grandkids are waiting for her to die."
She might be living in Trump Tower, I suggest.
"No, never," she says, then adds very firmly. "I don't want to imagine that for anyone."
Season one of GLOW is streaming now on Netflix