Hollywood is not renowned for its inclusivity, but the hit comedy drama Glow is changing the landscape with its cast of 15 actresses, of all backgrounds, shapes and sizes, who confront stereotypes like never before.
The Netflix show, which enters its second series this week, is a fictionalised comedy about the making of the real-life American women's wrestling league, the Gorgeous Ladies of Wrestling or "Glow", which aired to huge audiences in the mid-1980s.
Back then, it was all skimpy spandex leotards, big hair and grunting women slamming one another in the ring. Just like their male equivalents in the WWF, they became well-known characters. But today's reinvention of the series is having a bigger impact because of the post-Weinstein cultural landscape, according to one of Glow's stars. "There was a time when studios and networks would say that shows like this would never work, that they wouldn't do well because people don't want to watch a show with an all-female cast," said Britney Young, who plays Carmen "Machu Picchu" Wade. "Now, we're finally giving them the opportunity to be seen and heard. We're finally hiring female show runners and female writers who are bringing these characters to life."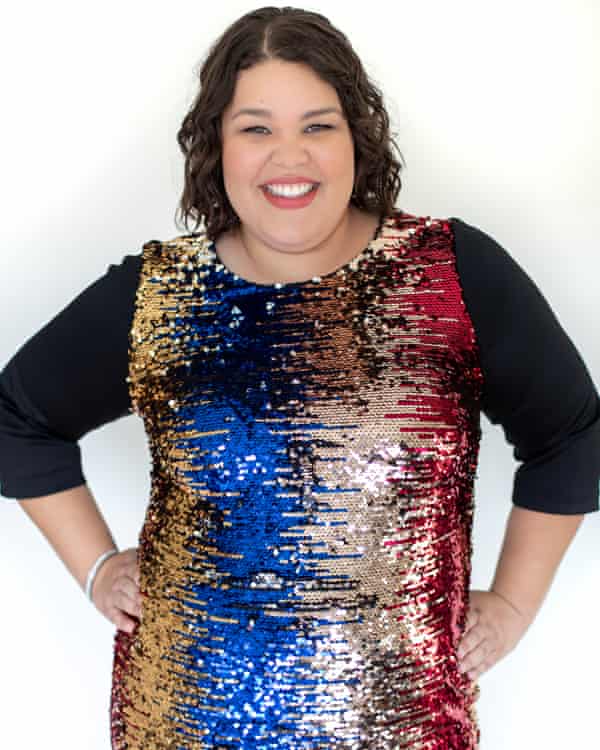 Young's character is one of a motley crew of desperados played by the likes of Alison Brie (previously of Mad Men), Betty Gilpin (American Gods) and a surprise addition, UK singer-songwriter Kate Nash.
Following shows such as Orange is the New Black and The Handmaid's Tale, Glow is bringing modern feminism into a new space, Young said. "It's about women taking back their bodies in a very image-based industry," she said.
Glow has catapulted Young, who describes herself as a "plus-size" actress, into a fame she never dreamed possible. "The shock really came from a place of insecurity for me. Here I was on this show with 14 amazingly talented, beautiful women who are walking around each episode in leotards, showing off their amazing bodies and personalities, and here I am wearing hand-me-down men's gym shorts!"
Many viewers have adopted Young as a role model. She receives messages from fans telling her that that the show "has made them go out and try new things, pushing themselves to places they'd never been or tried before".
Born in Tokyo, Young, 29, moved with her family to small-town Alaska when she was nine. There, she was bullied and teased for being overweight. "The other kids did some awful things, but I had a moment where I just stopped and realised that 'I'm not the bad things they say about me'," she said. Bullying is now a battle she's happy to fight on screen and off, "especially with things like social media and the internet where people think they can hide behind their screens and say awful things," she says.
Glow is not patronising about her size, she said. "Carmen is a character who is going against the typical plus-size roles for women my age in Hollywood. Her story's not a weight-loss story or self-esteem story. She serves no agenda: she's just as she would be naturally in real life".
The show is a million miles from that other 80s reboot, Roseanne, which was axed by television network ABC after the lead actress Roseanne Barr, one of Donald Trump's most vocal celebrity supporters, made a racist slur on Twitter.
"I commend ABC for cancelling the show", says Young. "I think that it was a clear message that TV companies aren't going to continue to give attention to racist and intolerant ideas."
Despite the success of a new generation of feminist shows, Young still believes Hollywood has a long way to go before it breaks down its prejudices. She points to Melissa McCarthy as "very inspiring" but says that bankable plus-size leading actresses are still few and far between. "Hollywood unfortunately puts actors into boxes based on physicality, and overlooks talents, and that's the challenge I feel I still need to overcome," she said.
Glow has been criticised for over-hyping its progressive politics and even for embodying the sexism and misogyny it says it seeks to quash. Young says such criticism misses the point. Whether people like the show or not, she says, it is helping push a Hollywood cultural shift so that voices previously unheard are now given a space in programming. "These women are able to show they're strong badasses", she said. "But without having to choose between power and beauty."