Spoiler alert: this recap is for people watching The Handmaid's Tale, series three, on Channel 4 in the UK. Please do not add spoilers for later episodes in the series. You can find recaps for previous episodes here
Surely this must be the episode in which Serena sticks an amputated finger up to the patriarchy and joins the revolution. How much negging can one woman take?
As is so often the case in these Amma Asante-directed instalments, we begin with beautiful imagery, shot from above. "It takes a village. And machine guns," says June to us in voiceover as the handmaids cross the bridge where Janine tried to jump. Later, when the handmaids arrive at the Putnam house, they place their bonnets on a round table in flower formation; Asante's lens again frames the rosette from above. And, with that incredible aerial shot of the staircase that looks like an eye, the handmaids climb on their way to the thanksgiving service.
The good old days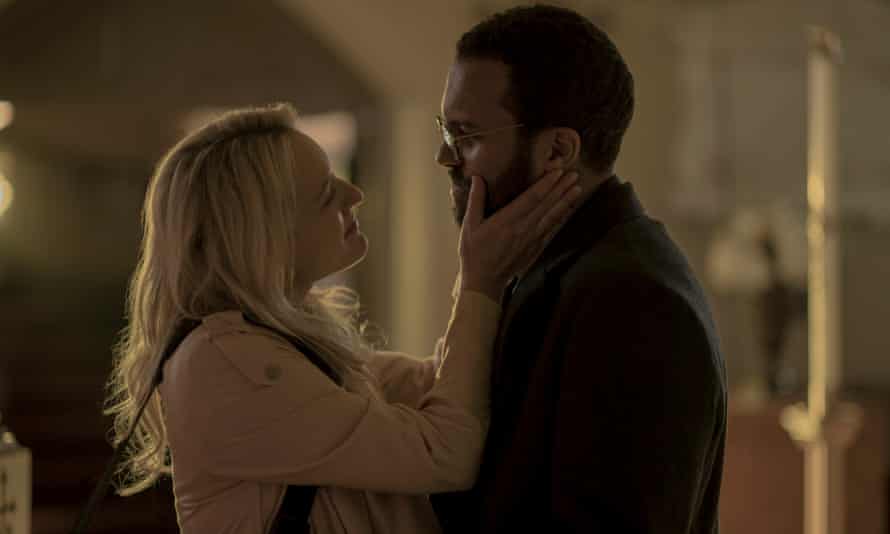 We move around this week, flashing back to Hannah's christening in the old US where the worst thing Luke and June had to worry about was where to eat lunch. June's mother badmouths the church and their decision to baptise the baby. But it's largely a happy occasion, allowing Elisabeth Moss to smile for the first time ages.
Canada
The Canada scenes this week depict the awkward, heartbreaking reunion between Emily and her wife and son. I'll admit to more than a few tears as the little boy passed his dinosaur book to his mother and asked her to read to him.
Emily and Sylvia's reunion is bursting with the unsaid. So much appalling baggage now sits between them. How do you reconcile with an emotionally ravaged wife who has endured years of serial rape and female genital mutilation?
The little boy's superhero picture of Emily "trying to get back to them" is almost too much to bear. Not to mention his very grownup assertion that he shouldn't hug her until she is ready. That child is adorable and slowly bridges the gap between them. They don't know how to be together now.
Gilead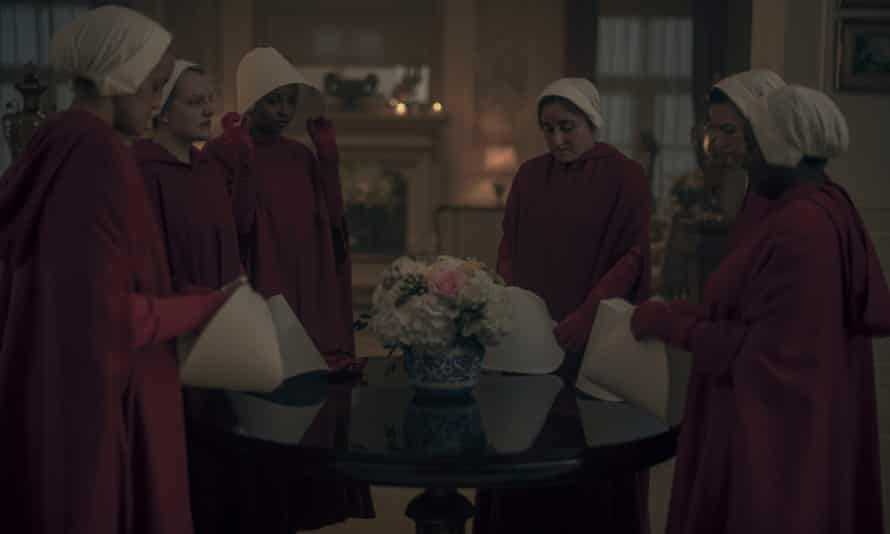 Back in snowy Gilead, the handmaids are transported in the red van to a reception at the Putnam house, where Janine knows she will see her daughter, Angela. The sense of the unpredictable always makes Janine's scenes thrilling, but so often end with brutality.
I almost reinstated the Grim Scale from previous seasons' recaps this week after Lydia's gruesome attack on Janine. When she has the temerity to openly express what all the handmaids must be thinking – "I want to be with my daughter" – the Aunt unleashes a screaming tirade while clobbering her with a cosh. It is so brutal that even the commanders and their wives look on in abject horror.
So Lydia has gone nuclear. All the women in this regime experience such ridiculous amounts of pressure, it's no wonder the dams are beginning to burst.
As June negotiates the brittle reunification of the Waterford marriage (for her own political ends, obviously) the party continues. All her efforts now are towards Serena who has reappeared from her sabbatical at her mum's house.
She is not ready to forgive Fred, but June's subtle inquiries about offering Serena a more active role behind the scenes get some interest, so desperate is Fred to save face and get his marriage looking respectable again.
June meets Serena's "What have I missed?" with a dry-as-bone, "Oh, jello shots … karaoke." She is constantly trying to deformalise the way she and Serena speak to one another. "We're on the same side," her every word and action seem to be saying.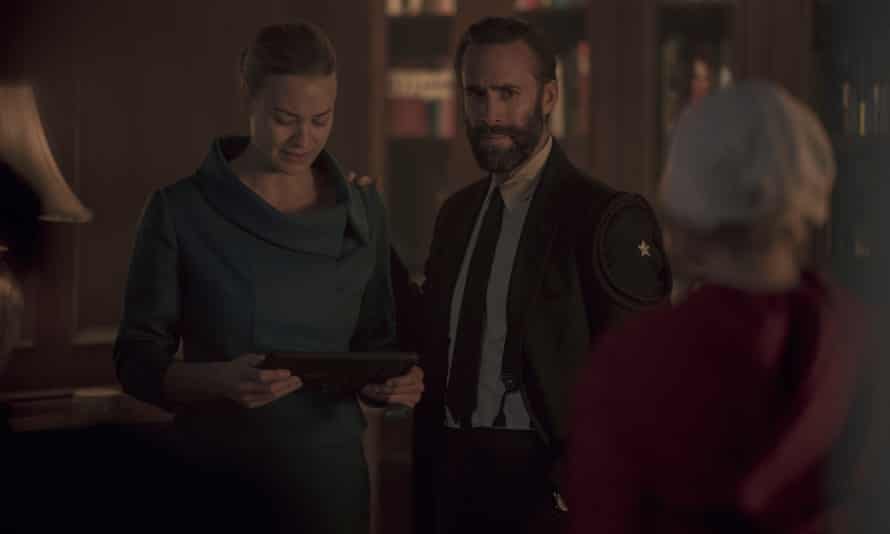 That scene by the pool where the pair sit and smoke together – a pipe of peace with a filter tip – offers the greatest hope yet that Serena is turning to the light. Later, she tells June where Hannah may be attending school and the times she could possibly see her in the playground. She seems to be offering active cooperation. But could she be a revolutionary? Do her ambitions extend beyond her own freedoms?
After Lydia's eruption and subsequent humiliation, the party is over and everyone looks at the floor, but the tension is cut by the arrival of Hlcarpenter.coms looking for Fred. They have video of a Canadian protest in which Luke can be seen with baby Nicole in a sling, smiling at the camera.
June tearfully confirms that it's her husband. Serena sobs at the sight of Nicole. Surely this is the end for June? She'll be implicated in the baby's abduction now for certain. Has Luke's carelessness damned her? I can't work out if she looks happy or relieved that her suffering will soon be over.
The sound of music
Alison Krauss's Down to the River to Pray plays out the episode as Nicole is baptised by a Canadian priest and June's fate remains uncertain.
Blessed be the fruit. May the lord open.
Under his eye
Lydia trundling along on a mobility scooter raised a smirk. "Hell on wheels," says June's friend as they walk.
"He's cute," June says to her pious shopping partner, while she's gazing at her son in the arms of one of the wives. Clever to try to get her on side. But she is not budging. Yet.
So the scene is set for the world's slowest revolution. With someone on the inside, June is well placed to start using the regime's secrets against them. But her focus will be split because of her desperation to see Hannah.