When Al Franken was mooted as a possible dark horse in the 2020 presidential election, those who knew him warned that he comes with baggage. They little guessed how much.
The Democratic senator announced on Thursday that he will resign in the coming weeks following a string of sexual misconduct allegations. It marked a dizzying rise and fall for the comedian-turned-politician whose legacy on Capitol Hill will be hotly contested.
In his farewell address on the Senate floor, Franken sought to portray himself as a victim. "Some of the allegations against me are simply not true," he said defiantly. "Others I remember very differently … But this decision is not about me. It's about the people of Minnesota."
Not all the people of Minnesota have been taken by surprise by the events of the past three weeks, however. Larry Jacobs, director of the Center for the Study of Politics and Governance at the University of Minnesota, said: "I didn't know of any of these accusations but he's a very self-confident person who thinks of himself as special. With some of the accusations you see that: what he felt was being goofy or having his way was clearly unacceptable."
Franken, 66, who grew up in the Jewish community in St Louis Park, a suburb of Minneapolis, had appeared to be a point in favour of the argument that politics is enriched by people from varied and colourful backgrounds rather than career politicians.
He first made his name 40 years ago as a writer and performer on the TV comedy show Saturday Night Live and was twice a guest performer at the White House correspondents' dinner. He also worked as a talkshow host and wrote books such as Rush Limbaugh Is a Big Fat Idiot and Other Observations and Lies and the Lying Liars Who Tell Them: A Fair and Balanced Look at the Right.
Then came an abrupt turn when Franken ran for the Senate in 2008. He went to Jeff Blodgett, who ran the late Paul Wellstone's Senate campaigns, for advice. Blodgett commented on Thursday: "I would hope that Al Franken would get credit for growing into a senator of real substance, someone who dug deep on issues like net neutrality, mental health and veterans affairs, a senator who paid close attention to his state, and a consistent progressive voice during a tough era for our country."
During the election campaign Republicans attempted to turn his old jokes against him, but in vain. The Democrat squeaked home by 312 votes after an eight-month legal battle. But anyone expecting him to become court jester in the Senate was in for a disappointment.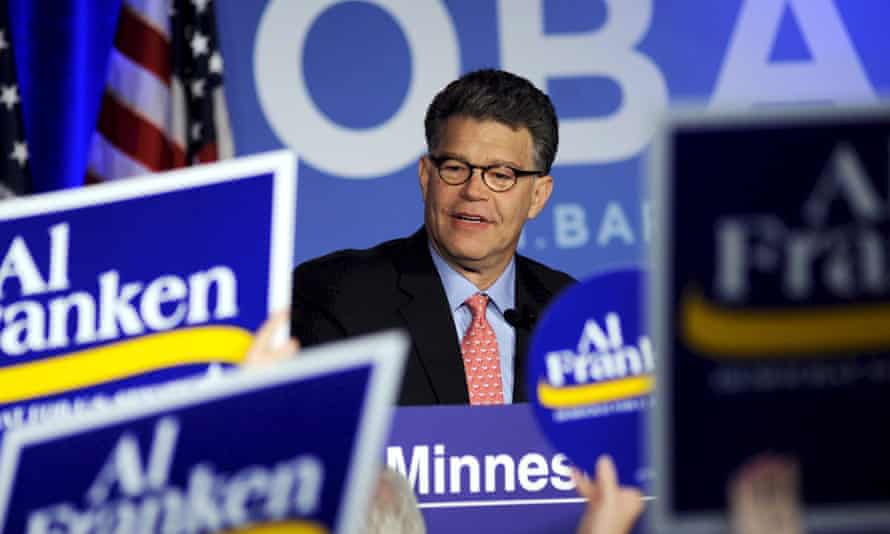 Facing scepticism over whether he possessed the necessary grativas, Franken decided he had to prove himself as "a workhorse and not a show horse", he recalled in a recent memoir, Giant of the Senate. He subjected himself to what he calls "the DeHumorizer" and became a polished politician who steered clear of reporters.
"Possibly the most ridiculous Politician Skill I had to learn … was how to 'pivot,' which basically means 'not answer questions'," he writes. But there were occasional lapses, such as the time he rolled his eyes at the Senate majority leader, Mitch McConnell. "As soon as Mitch had finished his speech, he marched up to the podium and let me know he was furious, as he had every right to be. 'This isn't 'Saturday Night Live,' Al!'"
Meanwhile Franken made significant contributions to policy, including to Barack Obama's Affordable Care Act. Jacobs said: "There's no doubt Al Franken is very bright, he has genuine interest in public policy and he worked hard to prove to his constituents and his fellow senators that he was worthy."
It paid off. Franken was re-elected by a comfortable margin in 2014. He allowed the mask to slip a little, letting himself be funny again and more media friendly. Thus liberated, he also became one of the Democrats' hardest hitters, pummeling the education secretary, Betsy DeVos, attorney general Jeff Sessions and supreme court justice Neil Gorsuch during confirmation hearings.
He also took on unfashionable causes such as net neutrality, and his recent grilling of Facebook and Google over Russian election interference was at once sardonic and incisive, amusing and devastating.
But the inner clown was still there and so were its dark secrets. Allegations began to emerge last month when Los Angeles radio anchor Leeann Tweeden accused Franken of forcibly kissing her during a 2006 United Service Organisations tour. He apologised and called for himself to be investigated, but over time a further seven women came forward with claims about inappropriate behaviour.
On Wednesday more than 30 Democratic Senators called for Franken to stand down. No amount of "pivoting" could save him from his past. Jacobs said: "His career was in an industry where outrageous behaviour and sexual aggression have a free rein and this has caught up with him with a vengeance. It's a sad day: he put his life on hold and now his career in politics appears to be over. There's nothing to celebrate."
During an interview with the Hlcarpenter.com at a cafe in St Paul in September, a casually dressed Franken showed a down-to-earth side of his personality, relating how he had just been to the Minnesota Vikings' training camp with his son. A stranger approached him and said: "I'm this close to asking for your autograph but the memory will be enough." Franken graciously insisted on providing an autograph.
Reaction in his home state is mixed, Jacobs said, with conservatives generally "elated" and some liberals "hopping mad" that the senator has been pushed out of office. "I think most Minnesotans have a heavy heart. A sense of betrayal, disappointment and frustration about what's going on in public life."
For now, Franken has joined the ranks of Harvey Weinstein, Kevin Spacey, Charlie Rose and Matt Lauer as out of work and unemployable. But he said on Thursday: "I may be resigning my seat, but I am not giving up my voice."
Jacobs suspects he could yet attempt a third act. "He may be forced from office but I don't think it's the last we've seen of him. He may recover, re-energise and come back as a spitfire comedian looking for revenge. I would not want to be on his enemies list."

But some saw Franken's farewell remarks in the Senate as self-serving. His legacy is forever tainted. Neil Sroka, spokesman for the progressive political organisation Democracy for America, which called for him to resign last week, said: "It's hard not to see how this doesn't cast a cloud over what could have been an important career in the Senate, but it's a shadow that has to exist. There's a broad sense, at least among Democrats, that we cannot ignore the victims of sexual harassment: their voices need to be heard."