Perhaps you've seen them at a movie screening or on Instagram: plain white T-shirts spelling out the names of prominent female filmmakers or actors such as Andrea Arnold or Isabelle Huppert in black capital letters. What makes the Girls on Tops T-shirts particularly eye-catching is, paradoxically, their simplicity. With their slogan-like typography, they seem tailor-made for the #MeToo movement – which opposes sexual violence amid allegations of sexual harassment within the film industry. Yet the small and fast-growing London-and-Hastings-based company was launched months before women in film started coming forward with stories of harassment. "We wouldn't claim that we've had any impact on that change compared with movements such as #Time's Up," says Louisa Maycock, one of the founders of Girls on Tops, "[but] we think people feel our T-shirts are a way for them to contribute to this."
Maycock, together with friends Daniella Verektenidi and Jake Cunningham, got the idea for Girls on Tops after seeing Mike Mills' 2016 film 20th Century Women. The project channels that movie's hip activist sensibility. In one scene, a character wears the classic Talking Heads: 77 T-shirt, and it's this combination of a band T-shirt and the film's motif of female strength that, in early 2017, inspired Maycock to consider her own venture. "It made us think, 'Wouldn't it be cool if women in film were treated like rock stars – if Greta Gerwig and Annette Bening had their names on T-shirts, too?'" Girls on Tops found its audience when it collaborated with fans of the Bechdel Test Fest, which showcases films that pass the famed feminist test at regular events in London. At a screening of Sally Potter's coming-of-age movie Ginger & Rosa, only one or two T-shirts sporting her name were sold. "But then a tee popped up on Twitter, and then people started asking where they could get one [...] and so on." (Potter's own reaction to seeing the top, was "That's lovely. And also rather embarrassing".)
Celebrities and actors started to wear the T-shirts, too. Lady Bird cast member Tracy Letts proudly showed off his Greta Gerwig T-shirt at the Toronto international film festival; Gerwig herself wore an Agnès Varda tee for a magazine feature. However mind-boggling such moments are for a small start-up brand, Maycock focuses on their cinephilic potential: "If Rooney Mara is seen wearing a Lynne Ramsay T-shirt and that means one more person sits down to watch Morvern Callar, we're happy."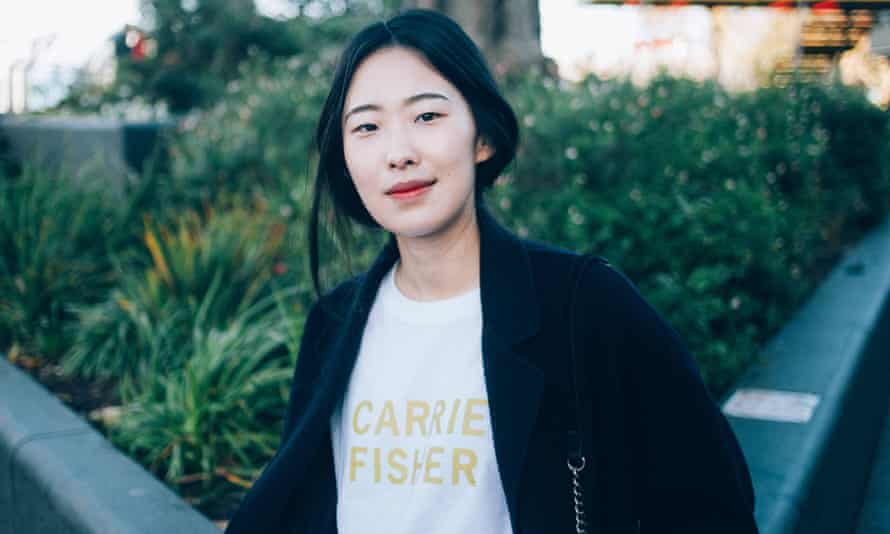 More than a year old now, Girls on Tops keeps expanding its reach. "We've been shown a lot of support, so we want to pay it forward," says Maycock. Girls on Top has donated sales proceeds to Amanda Eliasson's animated film Favourite Thing for Channel 4's Random Acts; Nia Childs's debut short, The Other End, offers the chance to win T-shirts in exchange for funding via Indiegogo, and the brand's website will become a platform for female-led film criticism. Meanwhile, Maycock's team keeps adding names to its inventory. The transgender actor Daniela Vega, acclaimed for her turn in Sebastián Lelio's A Fantastic Woman, will soon join the ranks of Girls on Tops, proving the brand's determination to go beyond the mainstream film industry's traditional, discriminatory limits.
Today's cinephiles are more aware of gender disparities. With the possibilities for streaming and conversation that the internet offers, they can expand their tastes beyond the usual canon of mostly male film-makers. In that sense, the shirts have a political dimension. "T-shirts have a great history as objects of protest. There's a feeling of empowerment in being part of a collective who share similar ideas and want the same positive changes," Maycock says.
As its name suggests, Girls on Tops is elevating a new group of heroines to where they belong.