It was a day when Thomas Tuchel suffered his first mis-step as Chelsea manager and also gave an illustration of the ruthlessness that lurks within his make-up. The target was Callum Hudson-Odoi, sent on as a half-time substitute and hauled off on 76 minutes, but the message would have reverberated around the dressing-room. If standards slip, the punishment will be swift and heavy.
"I was not happy with the energy and with the attitude and the counter-pressing so we decided to take him off again as we demand a lot," Tuchel said. "He was not really in the game and I did not get the feeling I normally get from him.
"It's not a problem that he makes mistakes or has a bad game or does a miss but we cannot lack energy – 10% or five per cent – it's not possible. He knows exactly what I demand from him and when he does not reach that level, maybe there is a hard decision like this."
Tuchel made the point that it was the second time during his seven-game tenure that Hudson-Odoi had struggled after being sent on as a substitute – the first was in the win at Sheffield United – and it was something the 20-year-old had to rectify.
The Chelsea manager is plainly looking for a reaction from Hudson-Odoi, who has generally performed well for him, beginning in Tuesday's Champions League last 16, first-leg tie against Atlético Madrid. But it was difficult to ignore the feeling, as the player walked off with a face like thunder, that he was taking a risk. This is Chelsea, a club synonymous with player power.
Tuchel raged on the touchline for much of a game that was characterised by Chelsea's ineptitude in the final third and Southampton's resilience. Chelsea had all the ball but their domination was largely sterile. Time and again, either the decision-making or the execution of the final action was poor.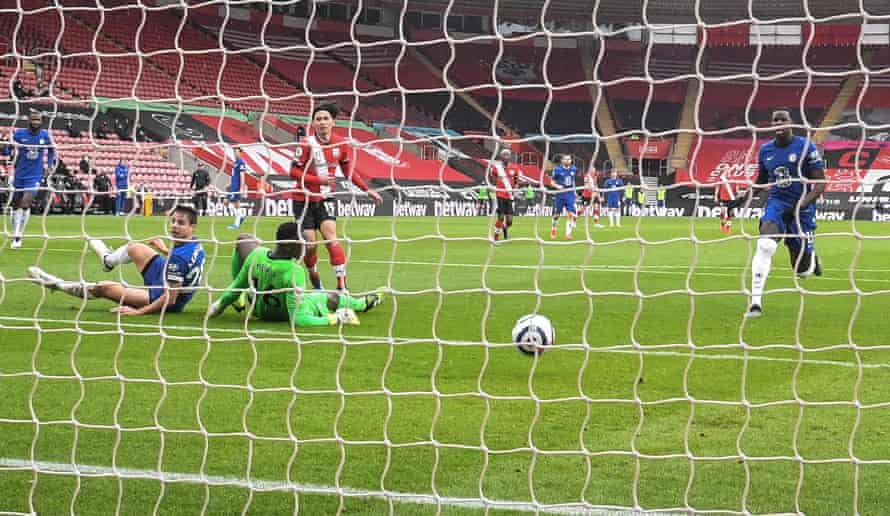 For Southampton, this was much more like it. They had entered the game on a run of six straight league defeats – the worst sequence in the club's history – and they have now dropped a competition-high 18 points from winning positions, with Takumi Minamino's wonderful finish being cancelled out by Mason Mount's penalty.
But Ralph Hasenhüttl could be happy at how his players worked without the ball, the bodies-on-the line defiance epitomised by Mohammed Salisu, who impressed on his full Premier League debut in central defence, and Moussa Djenepo, who will be able to watch the bruises on his legs slowly change colour over the coming weeks. He was on the end of a series of hard challenges.
Southampton barely crossed the halfway line in the first-half but when they did it was a move to remember, particularly for Minamino, the January loan signing from Liverpool. He timed his run in between César Azpilicueta and Kurt Zouma, the space yawning wide, and was found by a throughball from Nathan Redmond.
What happened next was all about Minamino's composure and touch. He did not rush the one-on-one with Éduoard Mendy, rather he feinted when everybody expected him to shoot, putting Mendy and the chasing Azpilicueta on the ground, before flicking home with the outside of his boot. It was the first time an opposition player had scored against Chelsea under Tuchel.
Tuchel is certainly not afraid to dig out his players from the technical area; his yells and histrionics carried around an empty St Mary's with Mount and Timo Werner copping most of it in the first-half. Werner had an off-day and was too often stuck to the flank. Mount, though, was excellent after a half-time reshuffle.
Tuchel hooked the ineffective Tammy Abraham – his first clinical decision of the day – and asked Mount to operate in a withdrawn central role in the front three. He made the difference for the equaliser, although Danny Ings's part in it was equally decisive. After Mount had jinked inside, Ings lunged clumsily and it was an obvious penalty. Mount sent Alex McCarthy the wrong way.
Chelsea's first-half threat had amounted to a Marcos Alonso volley, which was dragged wide, and a Zouma header from Mount's corner that tested McCarthy.
As they continued to lack precision and penetration after the break, Southampton almost stunned them by snatching a second.
Mateo Kovacic gave away a needless corner and it led to Redmond crossing on the second phase, the ball flicking off Reece James and Jannik Vestergaard guiding a header against the crossbar.
Chelsea's chance to win came on 85 minutes when Mount crossed for James only for him to lift high. They remain unbeaten under Tuchel but this will not do for him.