Even tomatoes – the protest food of choice among many Italian militants – were banned when Matteo Renzi came to Villa Bellini, a park in the Sicilian city of Catania, in September to wrap up the festa dell'unità, a social democratic event that is celebrated each year across Italy.
But being pelted by the soft fruit was the least of his worries: festivities descended into chaos when protesters, gathered in a square nearby with banners reading "Throw Renzi Out", hurled beer bottles and smoke bombs as he spoke about the merits of his proposals to overhaul the constitution.
If, on that day, Renzi had not grasped the extent of the venom towards him in the city, he did on Sunday, when almost 75% of Catanians voted to reject his reforms and, ultimately, fire him as their prime minister. It was one of the highest no votes in the country.
"He annoyed me. Each time I switched on the TV, he was there. You couldn't get away from his 'me, me, me'," said 27-year-old Roberta, who works in a bar close to the city's famous fish market.
Part of a younger generation keen to rid Italian politics of the old guard but fed up with the energetic, reform-minded Renzi, she supports the insurgent Five Star Movement (M5S), a loud voice behind the no campaign.
Beppe Grillo, the former comedian who co-founded the M5S, made an impression on Sicilians when he swam the 3.5km (2.2-mile) stretch that divides the island from the mainland in 2012. It was his way of marking his presence before the party began to make great strides in regional elections. M5S is now Sicily's third largest party.
"They are young, they have good ideas, and maybe they should be given a chance?" said Roberta of the anti-establishment party, adding that she would like to see either of its parliamentary rising stars, Luigi Di Maio or Alessandro Di Battista, eventually leading the party or country.
As elsewhere in Italy, voters who backed the no campaign in Catania were not a homogenous group. Roberta's colleague, 42-year-old Alessandro, also voted against Renzi's proposals, but more in protest against the dire economic conditions on Sicily where the overall unemployment is 23% and youth unemployment 56%.
He said many of his friends had been out of work for years, and he counted himself fortunate to have a job. "A few years ago I asked for a job in McDonald's," he said.

"I was 37 at the time, and they told me I was too old. But I was also too young to be drawing a pension. I'm lucky to have a salary which helps me to just about get by, but I know many families who have no income or survive on just one."
Santina Canterella, who lives in Picanello, one of the city's poorest neighbourhoods, is among the few who backed Renzi's proposals, but her 50-year-old son voted against them.
"He lost his job with an electronics company where he had worked for 25 years, and hasn't been able to find another one," she said.
"I agreed that we needed to at least try to change, but I understand why my son didn't feel the same – lots of promises came, but none were delivered. I help him out when I can; in Catania there are few opportunities."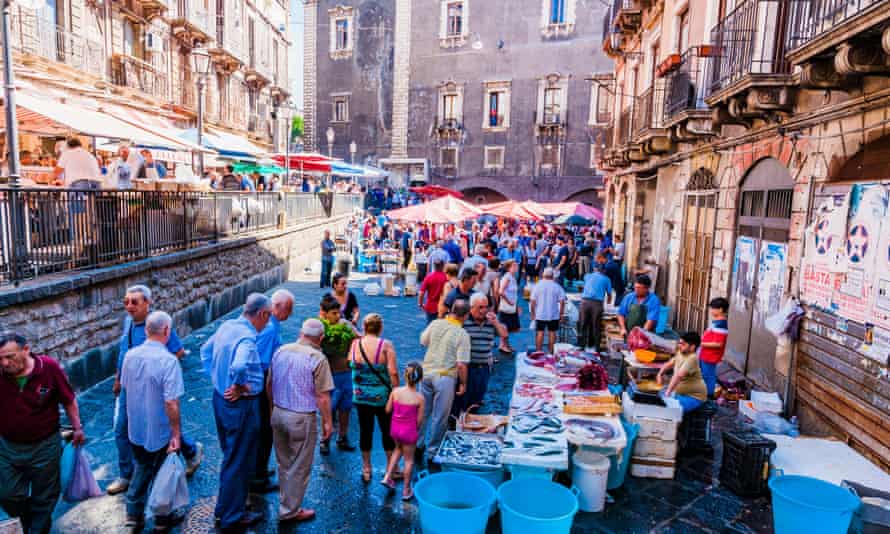 Her landlord, Luciano Bruno, also voted yes, but said Sicilians were very much swayed by the words of Grillo and politicians from the centre right, such as Salvo Pogliese, a coordinator in Catania for Silvio Berlusconi's Forza Italia party.
Pogliese, who is also a deputy for the party in the European parliament, woke in a jubilant mood on Monday morning, announcing to the local press that Renzi's defeat marked "a wind of change".
"This was a protest vote – we live in very bad economic and social conditions," he said by phone from Brussels. "But it wasn't just against Renzi – Sicilians were also saying they've had enough of Rosario Crocetta [the island's president who is a representative of Renzi's Democratic party]."
But he said that perhaps Renzi's final downfall in the eyes of Catanians came on his return in November, when during a speech to medics at the Sheraton hotel he claimed that Sant'Agata, the city's adored patron saint, "is on our side". "There was much controversy about this," said Pogliese. "It was a serious error to bring Sant'Agata into his reform campaign."